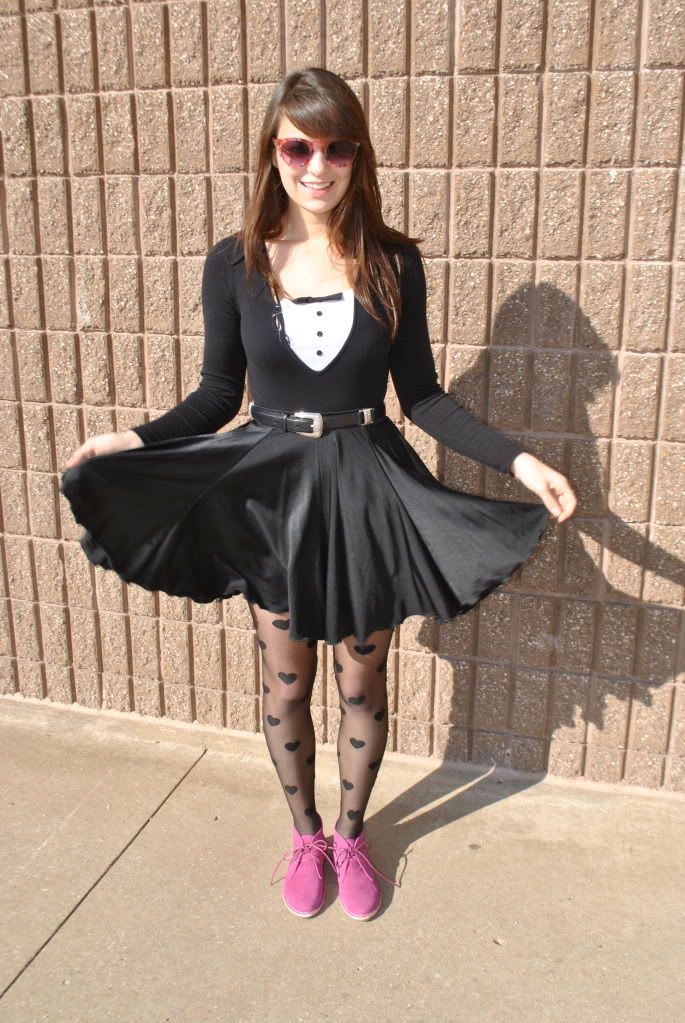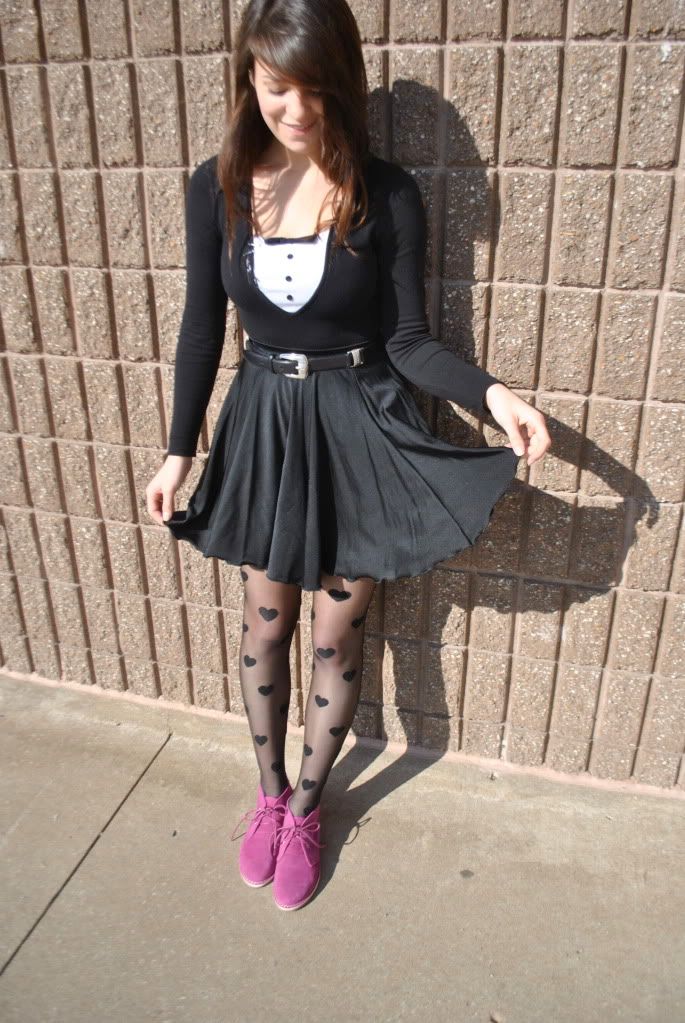 Ah, look at me in semi-sheer tights and no jacket! It was seventy six degrees on Saturday. In January. Only in Oklahoma, our weather is kind of insane. It was so nice that I drove all the way out to Sand Springs to go camping with Jordan and Steele and friends. It was all fun until we woke up at 3AM cold as fuck and then we all had to sleep in Steele's car. I slept sitting with my face in my lap. And then I had to wake up at eight on Sunday morning with a hangover, an aching back, and a splinter, then drive all the way home to get ready for work at ten. It was kind of awful, but it was worth it. And today there was snow up to our porch door handle, no joke! But that means no school today or tomorrow. >:D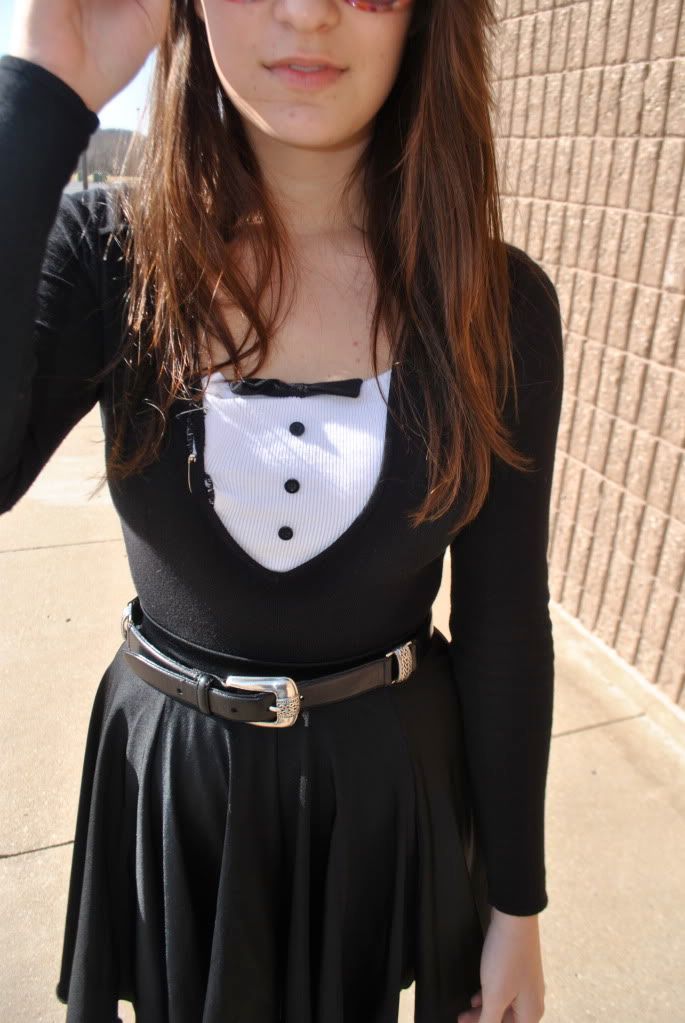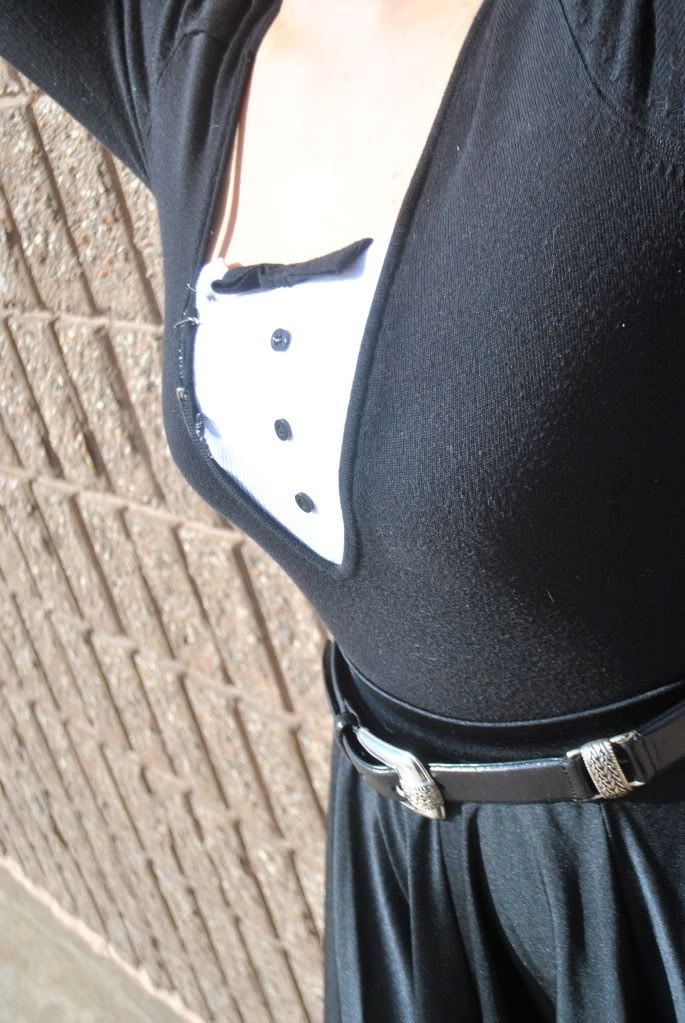 All day when I was wearing this people kept thinking it was a dress, but it's actually a skirt and a body suit! Isn't it wonderful? Long sleeve, soft cotton and made to look like a tuxedo, it's perfect! The only bad thing is my boobs are too big for my waist size and they actually caused it to rip at the seaming in the chest. I safety pinned it back together, which may look a little silly, but I'll send it to the tailor's pretty soon to be fixed. I got it from the Zac Posen for Target collection so I'm kind of surprised it ripped that easily. Usually the Target / designer collaborations are pretty high quality. Hmm...I haven't been to Target in a long time. Maybe once this blizzard is over, I will.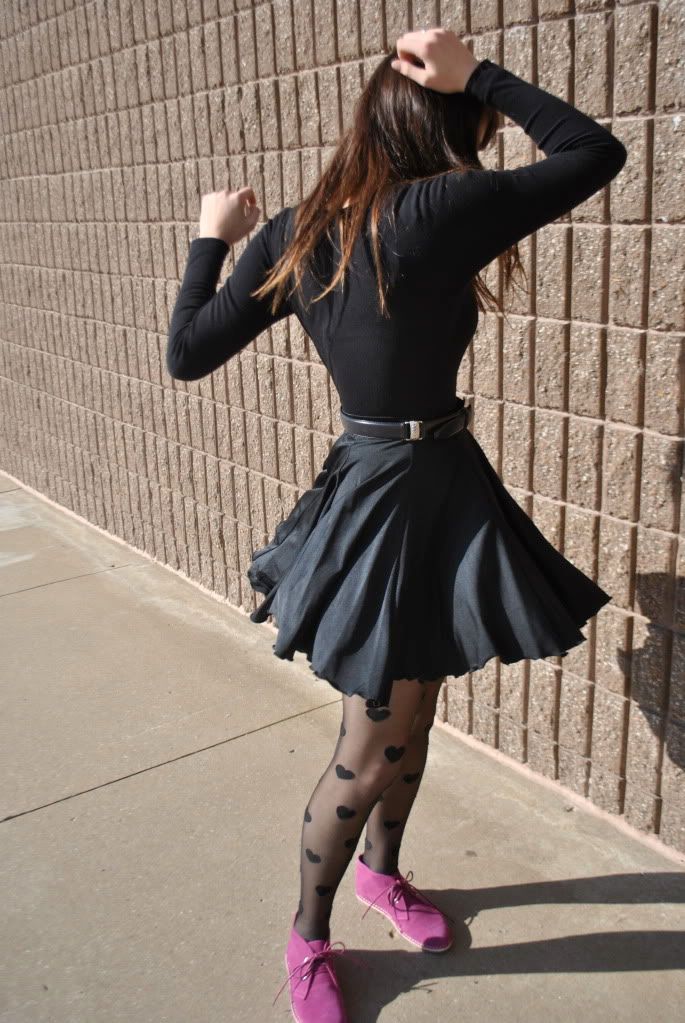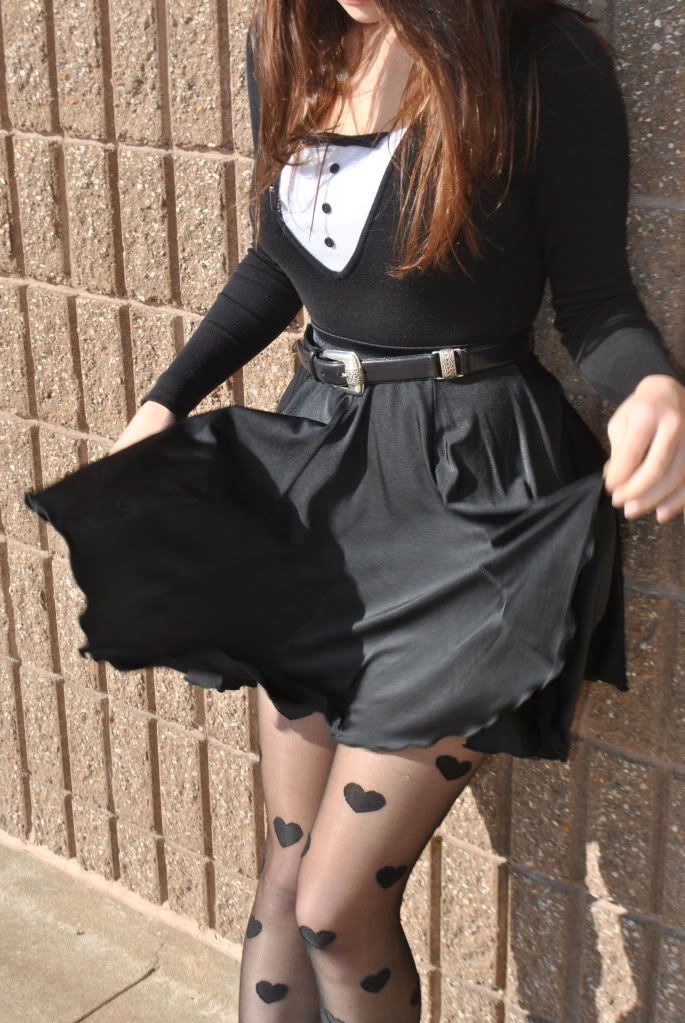 I really love this skirt. Or well, I think it's a skirt. I got it at Salvation Army (or Goodwill? I don't remember), and the material feels like spandex, so part of me wants to think it used to be a piece to a figure skating or dance costume. Either way, I love it! It's the perfect length, black so I can wear it with anything, and I love the cut. Plus when you spin around it looks so pretty. How could I resist?
And my favorite part of this outfit, the shoes! They're so bold, I feel in love with them as soon as I laid eyes on them in the Urban Outfitters catalogue. But the price deterred me until (almost instantly, it seems) UO ran a three-day special 20% off full price shoes code. And then I was won and placed an order, and I don't regret it one bit. These magenta babies are gorgeous in every single way. I was afraid they'd be flimsy (I have a similar style bootie by Ecote I got off UO awhile back), but they're actually pretty nice quality! And the color...magenta just kills me. I think they made the outfit.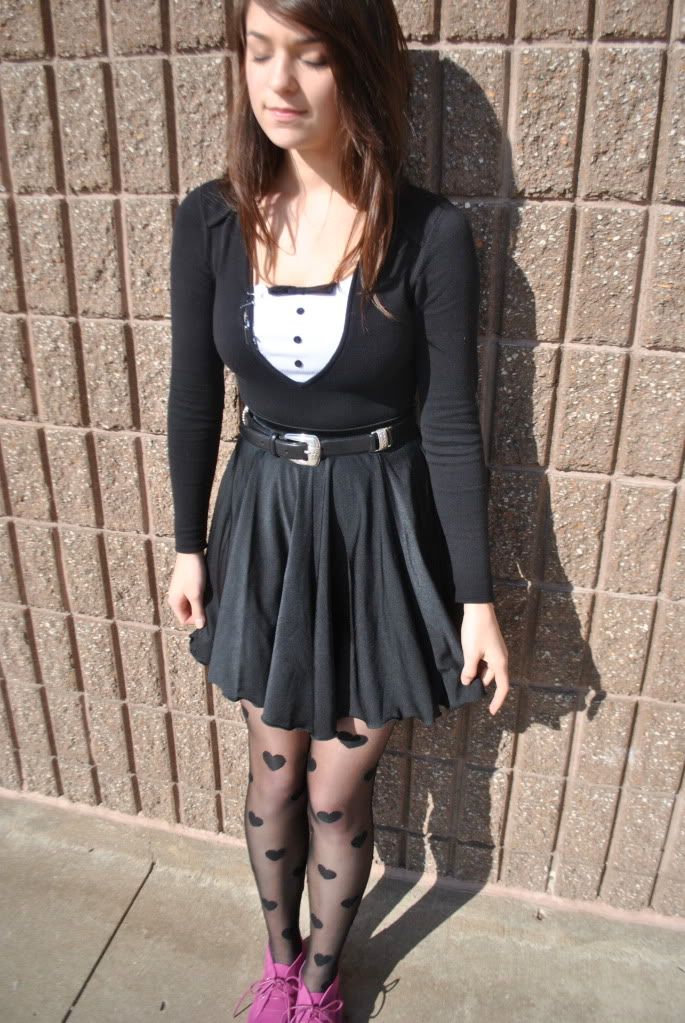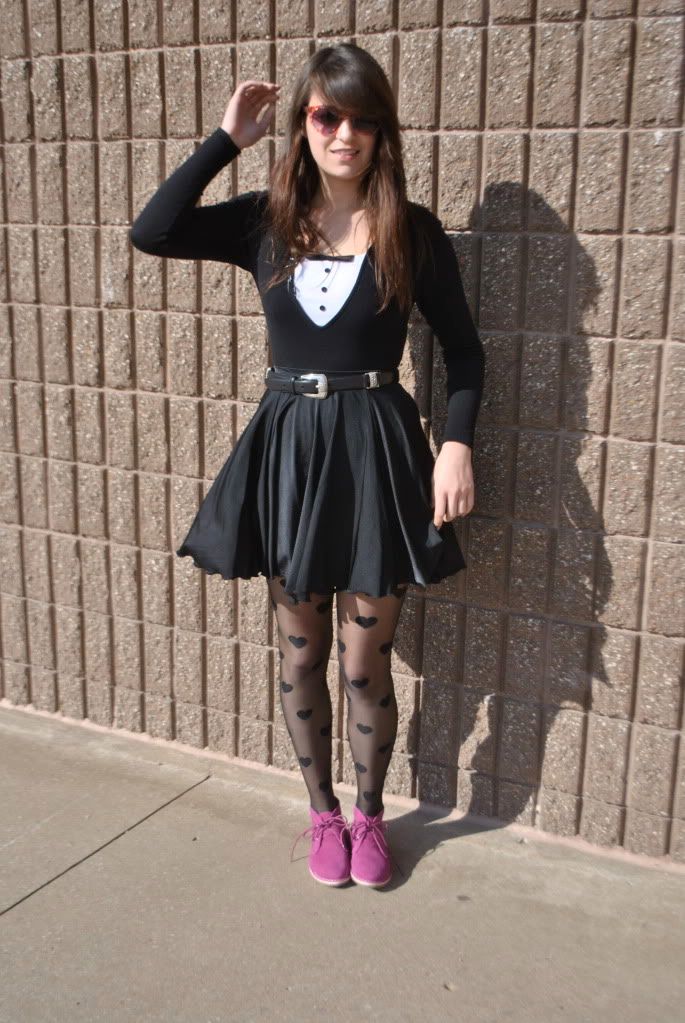 It's been awhile since you guys have seen these precious heart tights, and it's been awhile for me! The last time I wore these was in New York, so about six months ago! I actually left all my tights in New York, and I thought I lost them until Carey texted me in September saying she found a box full and wondered if they were mine. And then they were zipped home in the post, but these heart tights were no where to be found.
I had been trying to replace these and I couldn't find them anywhere (Forever 21 changes their stock so quickly, almost daily, it's kind of ridiculous!).
I don't know what happened, if they were caught in another pair or if I just didn't see them, but the other day I was looking for my polka dot tights and I mistook these for them. Maybe the best mistake I've ever made!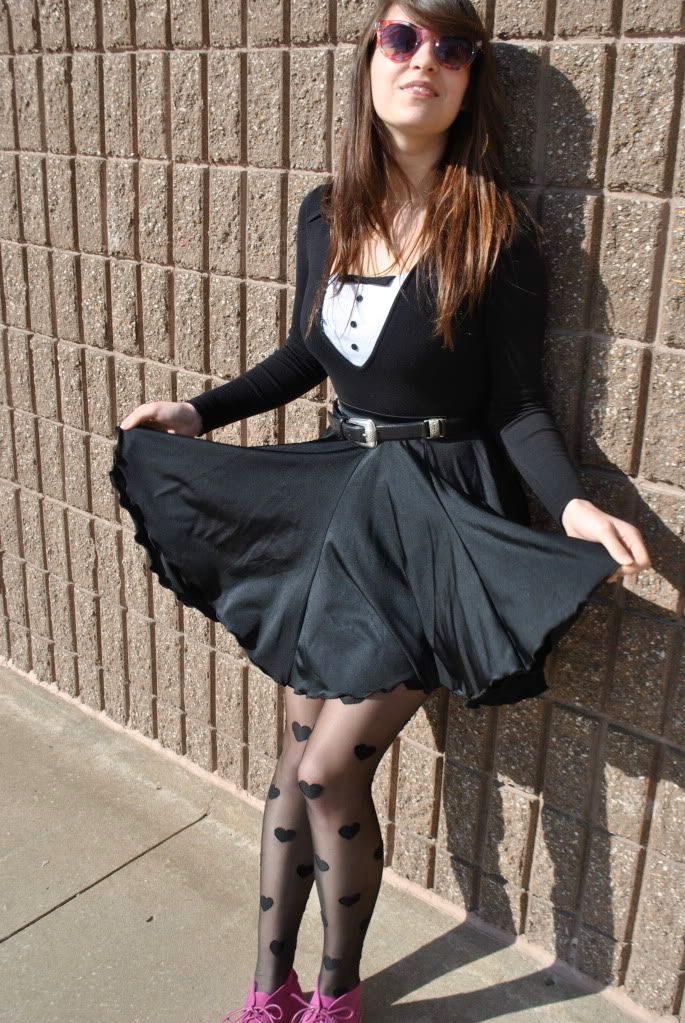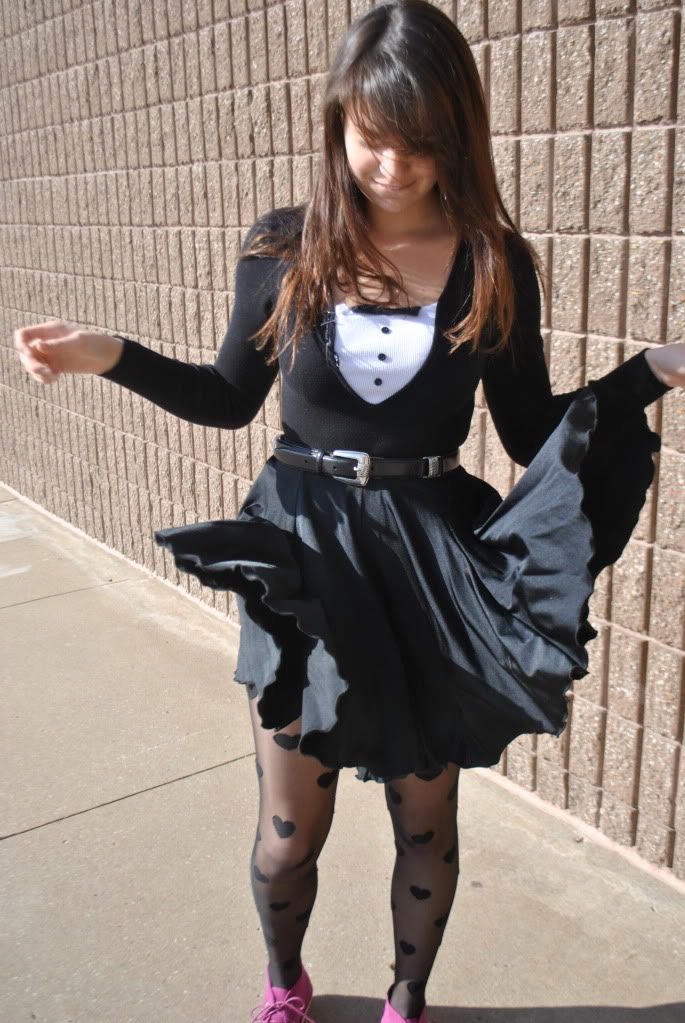 Well, I'll be taking these two snow days as an opportunity to organize my closet (unlikely), get all the clothes out of my car, listen to Local Natives (I've been on a kick with them lately), fill out the FAFSA & the NCP, clean out my computer (I ran out of space! Too many blog pictures... :D), watch Lost...etc etc. I love you all. Or well, most of you. (:
Black Tuxedo Body Suit: Zac Posen for Target
Black Figure Skater Skirt: Salvation Army (or Goodwill?)
Black Heart Tights: Forever 21
Magenta Booties: Urban Outfitters
Red Stained Sunglasses: Urban Outfitters
Black & Silver Belt: Goodwill