Wakkawakka so I haven't been to school since Monday, and I haven't really even left the house much! I drove for the first time all week yesterday, and even then my mom would only let me go three miles to my friend's house. I drive a Jeep, so I've never really had a problem driving in inclement conditions. Last year the roads were much worse and I still drove all over the place. That being said, last night I couldn't get out of where I parked. Poor boys had to come and push me out. All their testosterone was going from watching UFC, they needed to be manly or something I guess. So that's pretty much a summary of my entire week, haha. And we're supposed to get more snow today and most likely will not have school Monday or Tuesday. Hmm....I'm never going to graduate! We built in five snow days and we've already used seven. Ugh, we'll be stuck in school until June!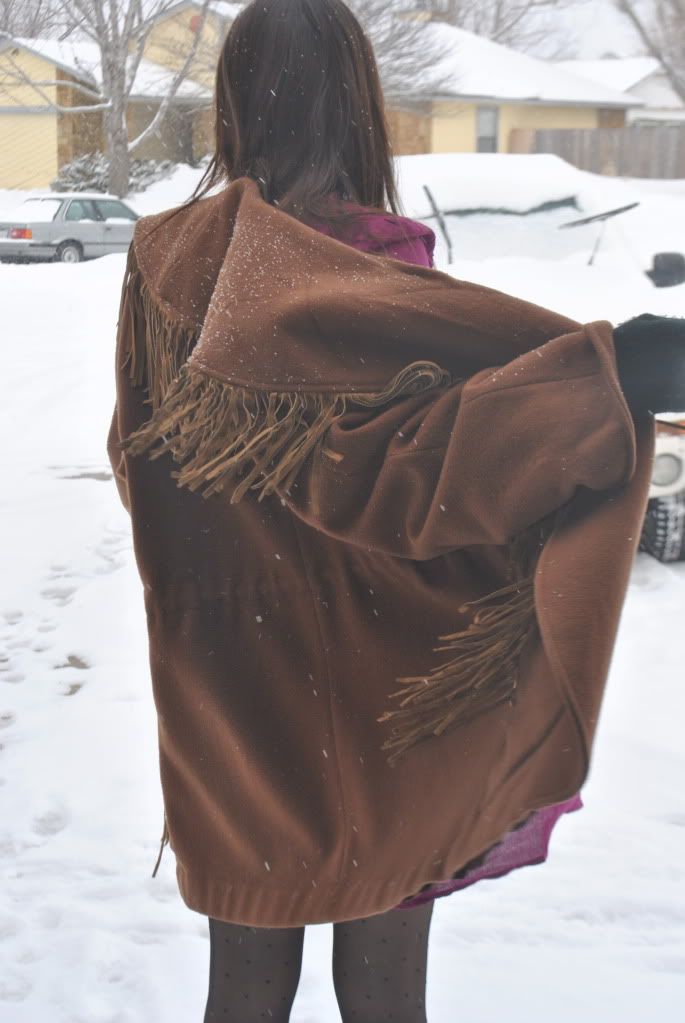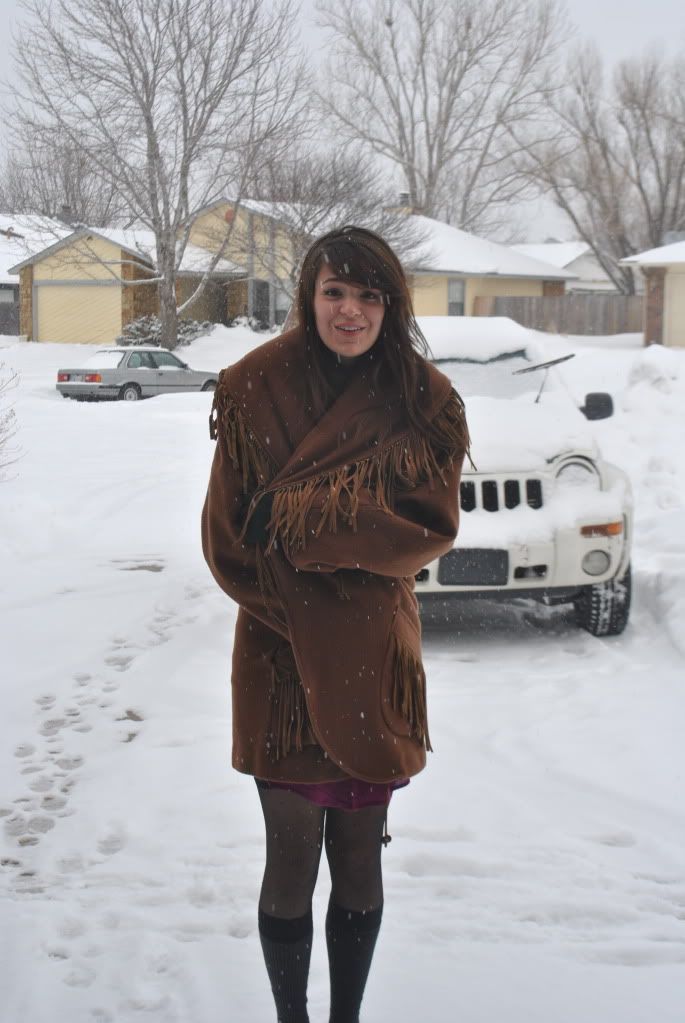 Ah! I braved the snow to take pictures for you all. (: But really it was so freezing cold I thought I might die. Every five photos or so I had to dash for this huge fringe jacket that belongs to someone in my family, but doesn't really quite fit any of us. I love this jacket though. I'm taking it to college with me (surprise mom!), because it kind of reminds me of home. Every time I look at it something just screams OKLAHOMA in my head, which I kind of fills me with homeland pride. I really do love my home. I used to hate it, but I've come to appreciate it over the past few years. So yeah. This jacket.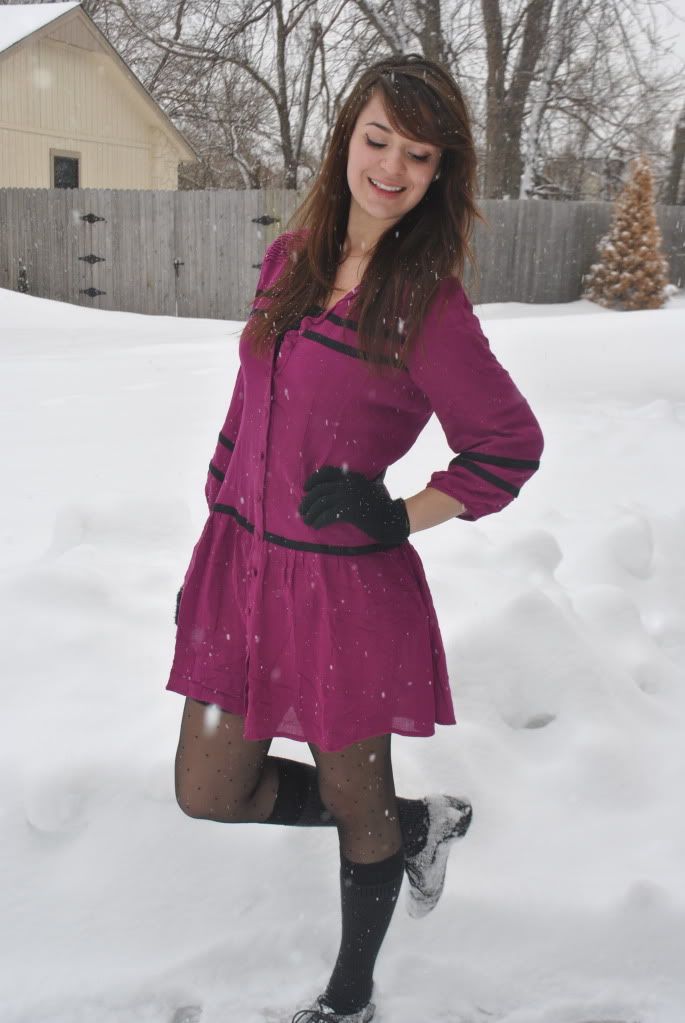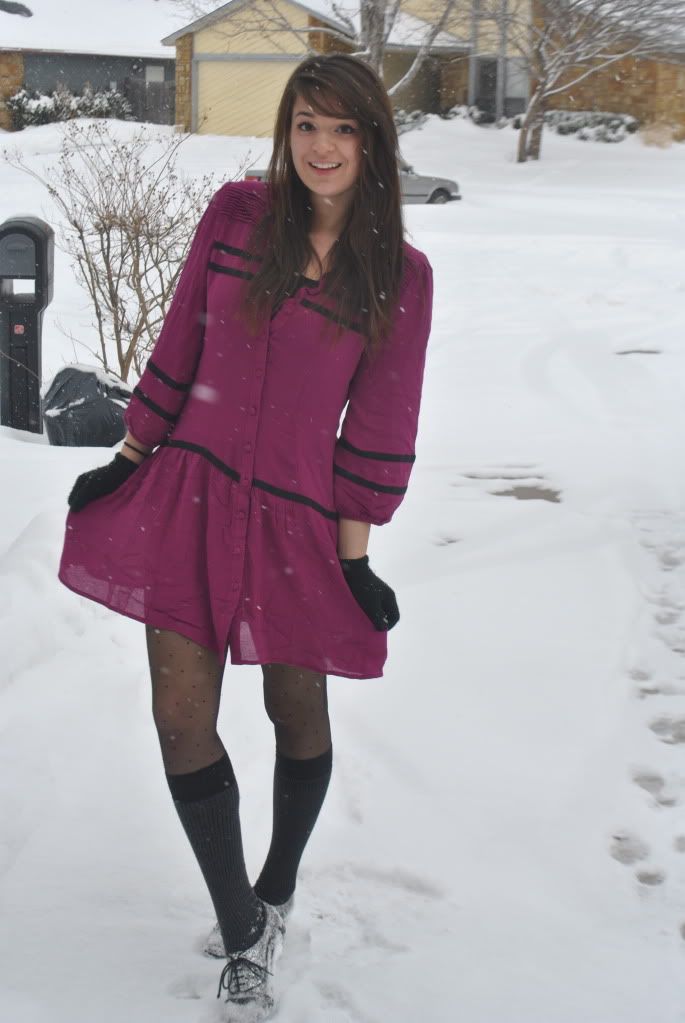 Isn't this dress kind of lovely? I snatched it up on sale at Urban Outfitters the other day, along with this skirt that I accidently ordered twice. Too make it worse, I've lost a bit of weight and dropped to a size four and I ordered that skirt in a six and it slides down my waist. So I have to send two skirts back and explain how stupid I am. Wooooo. But the dress! Can you guys tell I'm kind of on a magenta kick? Hmm? I ought to just pile on all my magenta clothes (in reality that's only this dress and these shoes) and parade around town like Barney.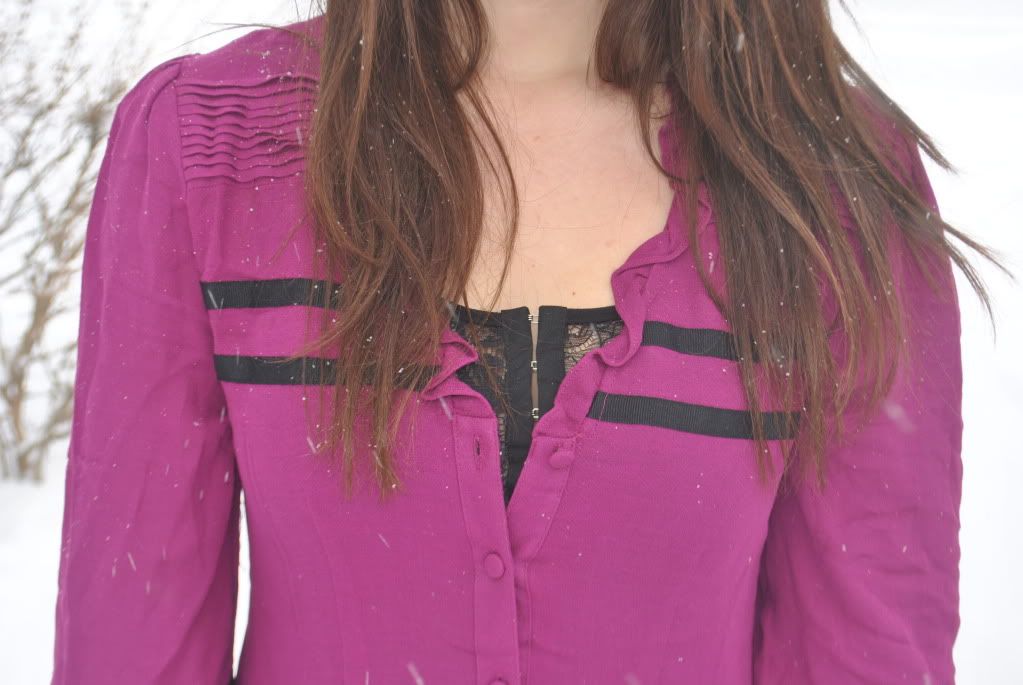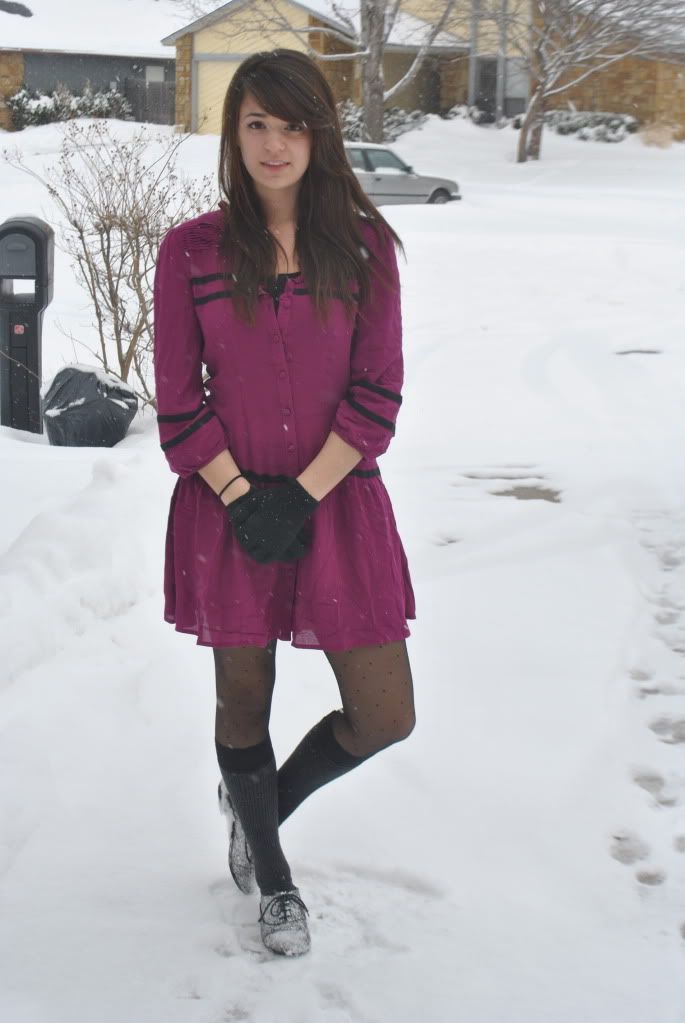 Sorry I didn't manage to get too many detailed shots, but I was so cold nothing really mattered except getting some decent photos and getting inside to some warm tea. You can't tell much here, but I've been really into layering leg-ware lately (check out that alliteration!). But I'd forgotten about the few pairs of knee-high, thigh-high and ankle socks I have in my possession. Slide 'em right on over a pair of patterned tights and it creates so much dimension, not to mention adding extra warmth! Which I cannot have enough of in this blizzard. And this all looked pretty dang cute with my glitter oxfords, but you can't even really see them because of all the snow!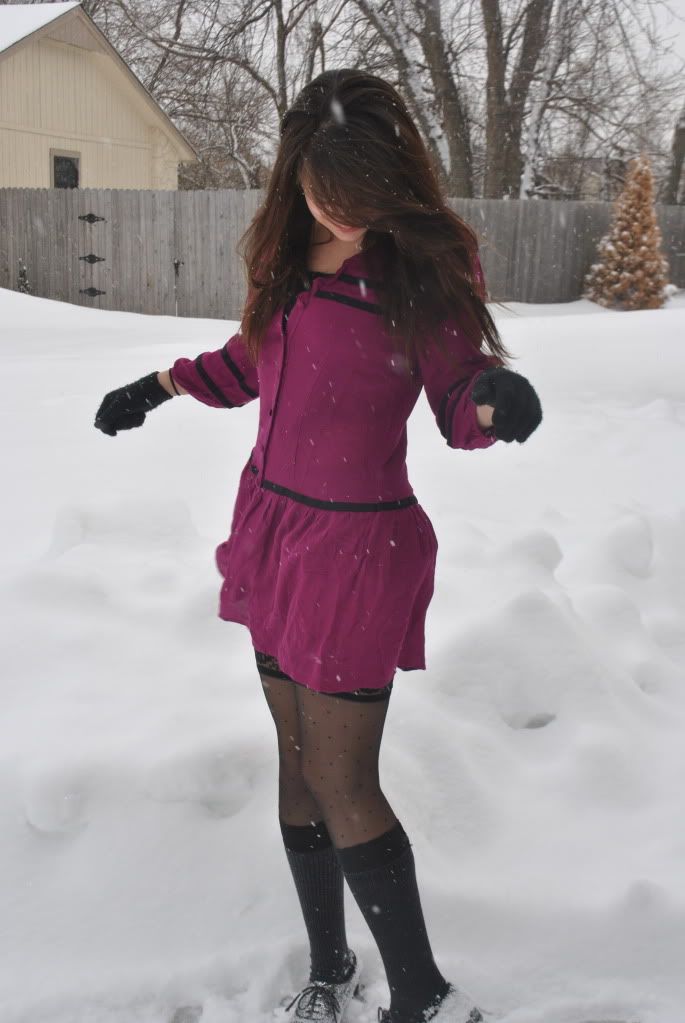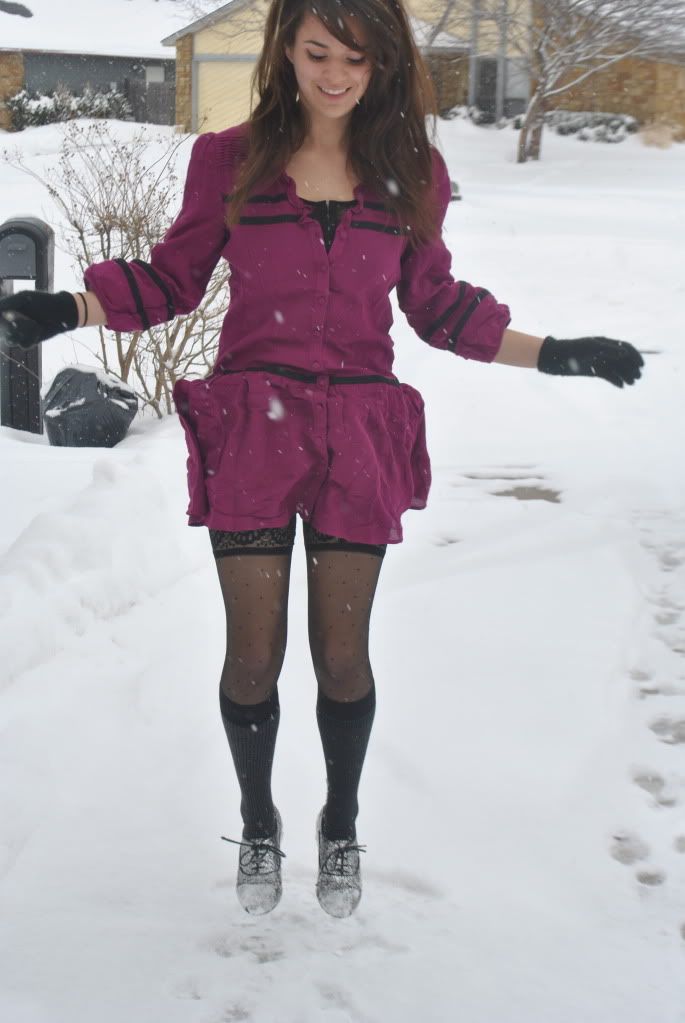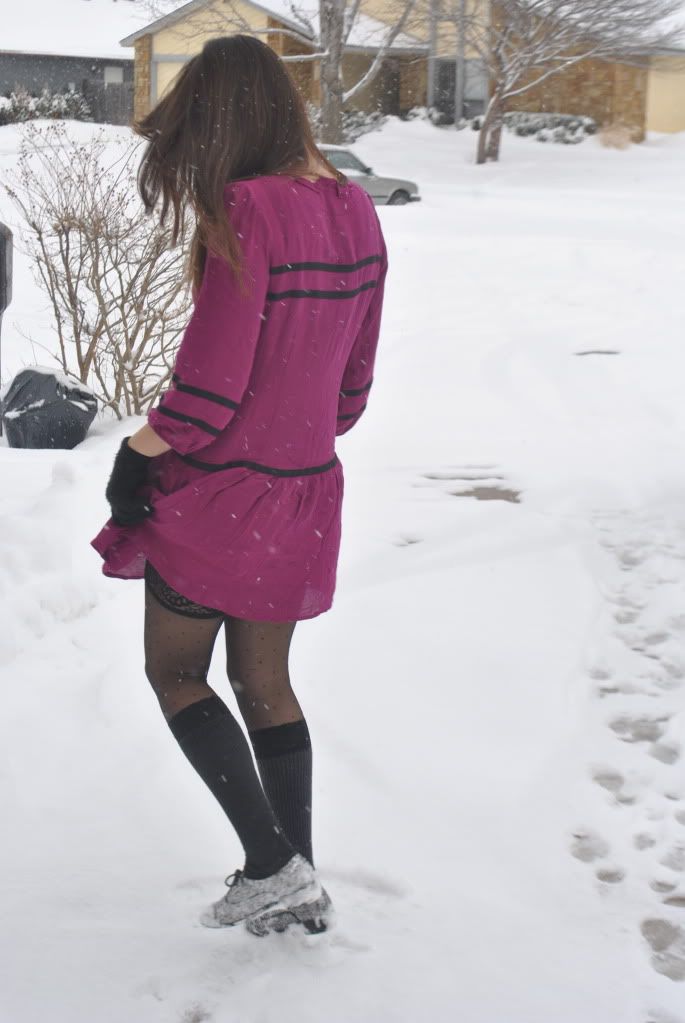 Ah, the other night I at Jackson's we had some good old fashioned family fun, no joke! I went over and we cuddled and watched a movie while Jackson's mom did homemade banana cream pie and fries (steak too, but that's irrelevant to me). And Gentry was there and we all played Wii tennis and bowling and boxing, oh my gosh my arms are still sore. That stuff is intense! Jackson said it was very typical high school relationship. Family bonding over video games and eating a relaxed dinner. We never do that really though, so it was a nice change. Variety is the spice of life, lalala. I even wore the silliest thing. Jeans and a white thermal with some awful designs on it (a gift) and brown boots. I felt like all the girls at my school! You know what manner of dressing I mean? I kind of looked like this, which is a bit insane because it's so outside of my style.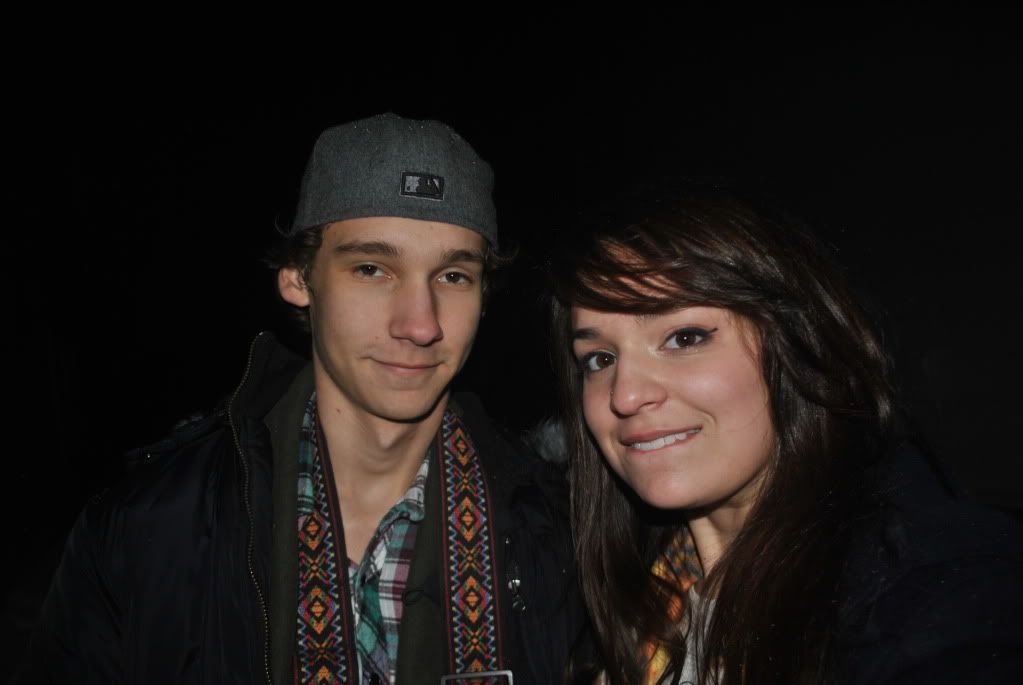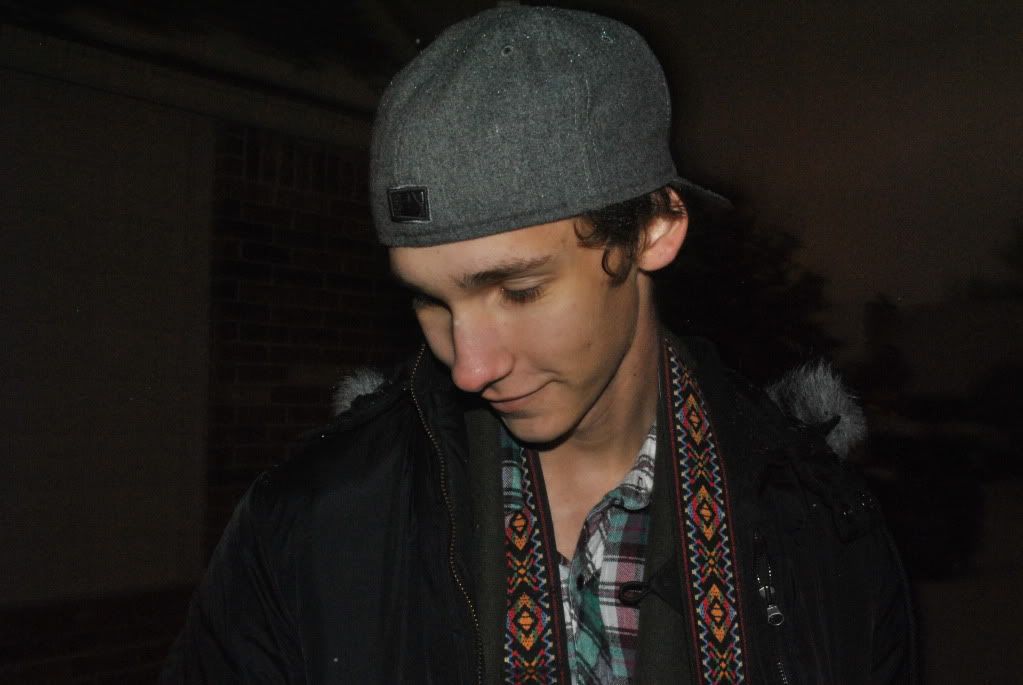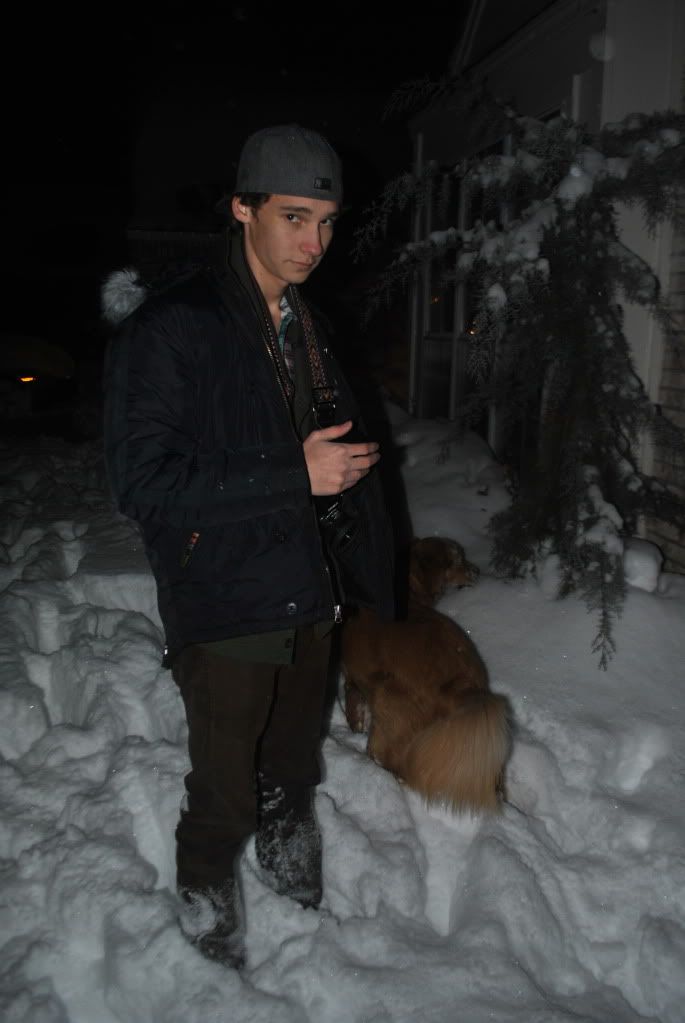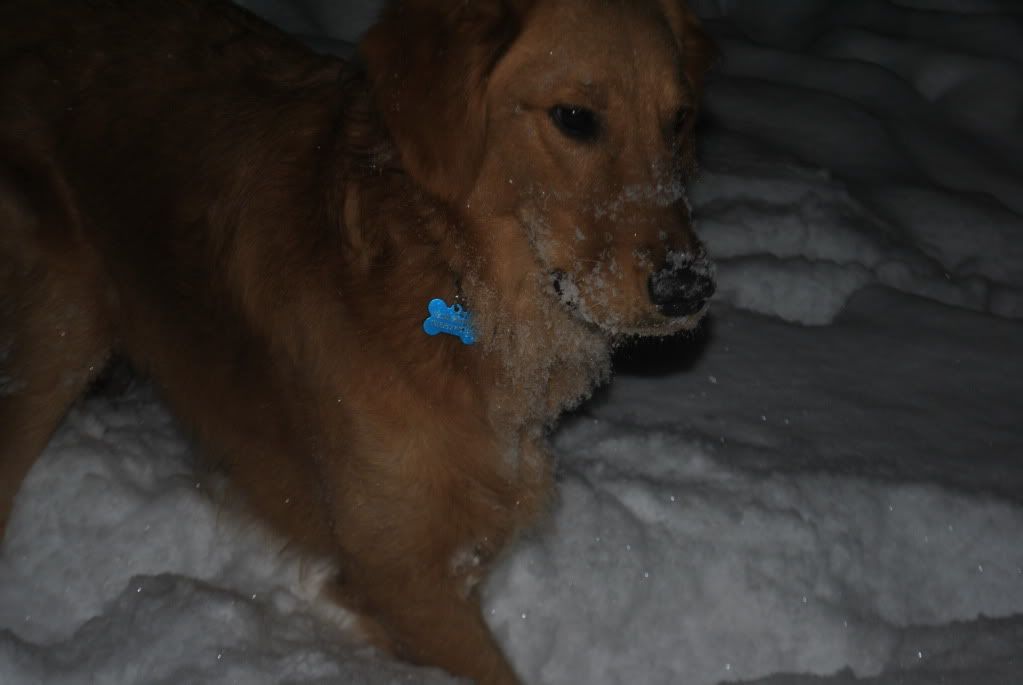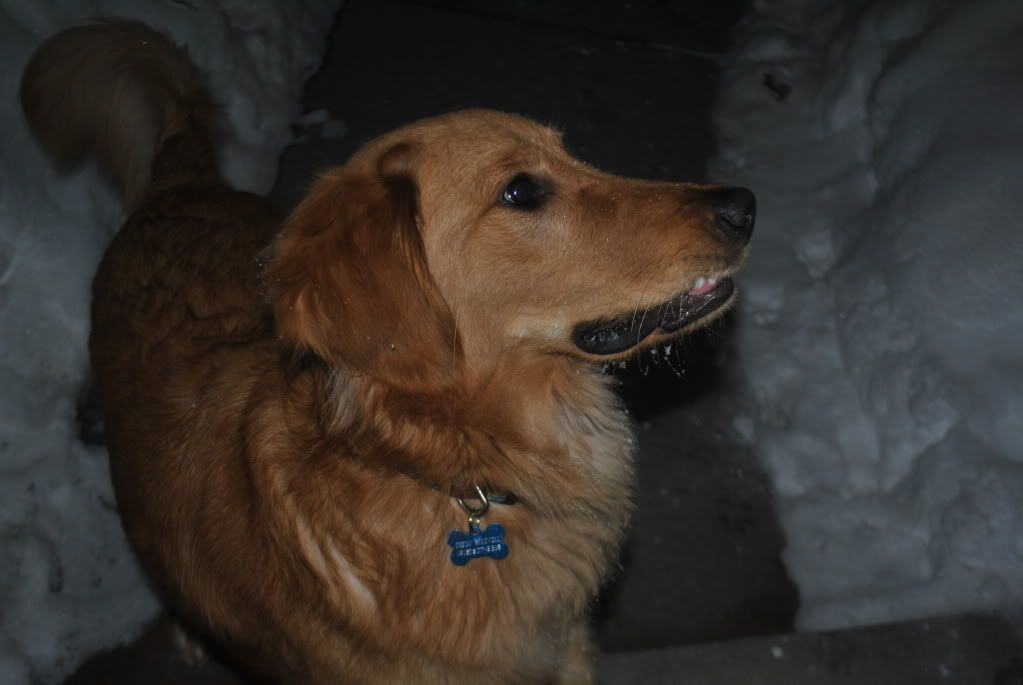 Sorry this post was kind of photo-heavy, but after you stand out freezing in the snow for photos, it makes you want to show them all off! Doesn't Goose look adorable? We took him out and he just runs at the snow and dives into it, head first. And he buried himself in it and bounced around like a gazelle....I wish I had a video! I snapped a few photos of him looking all snowball and cute, but Jackson took a few on film that I'll show you whenever he gets them developed. Jackson has a Tumblr where he's been posting some of the photos he's taken, and they're really quite beautiful! Check it out! Warm wishes to you all! :3
Magenta Drop Waist Dress: Urban Outfitters
Polka Dot Thigh-Highs: Walmart
Knee-High Grey & Black Socks: Target
Glitter Oxfords: Forever 21
Black Lace Bustier: Modcloth