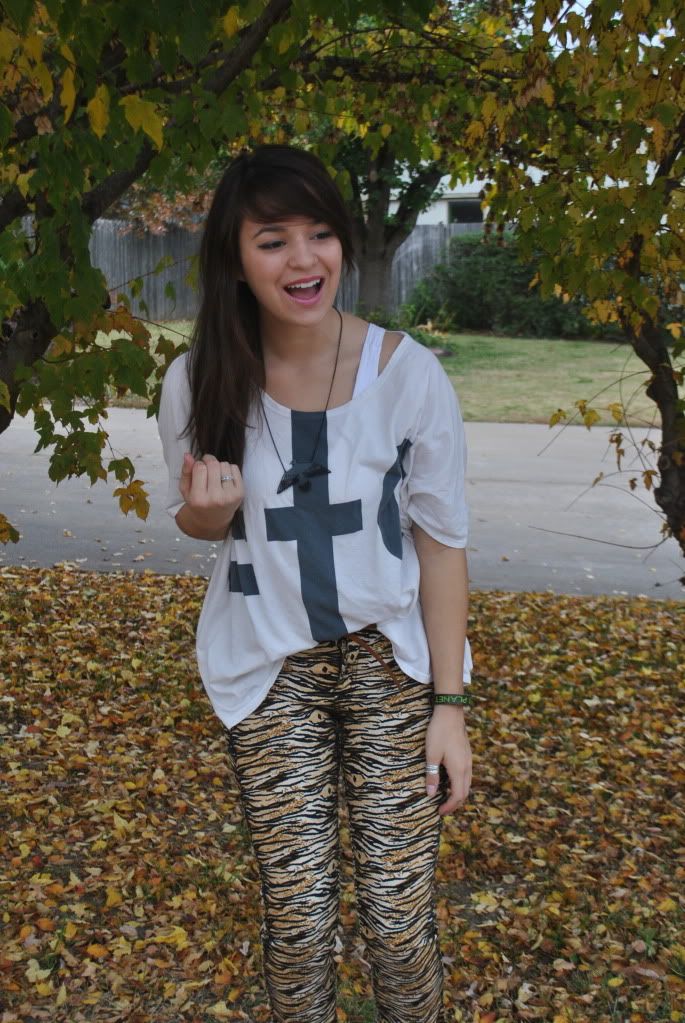 So I've added "cry" and "pull hair out," to my ridiculous long to-do list. Ah guys I've never felt more stressed than I do this year. My teachers have been piling on the work before Thanksgiving Break (three projects, three tests, a take home test -kill me now), but I spent all day working at it and I've definitely made a dent. I guess I deserve this since I had an extended weekend. Thursday was Senior Skip Day, so I hung out with Sofia and friends, and Friday was a professional day, so no school! Plus Monday was OIPA, a journalism convention at OU. Magazine, Yearbook and Editorial Leadership got to go and it was so much fun! We took so many pictures, I bought some pretty shirts, made a necklace, saw old friends...it was awful to return to the looming reality of school on Tuesday though.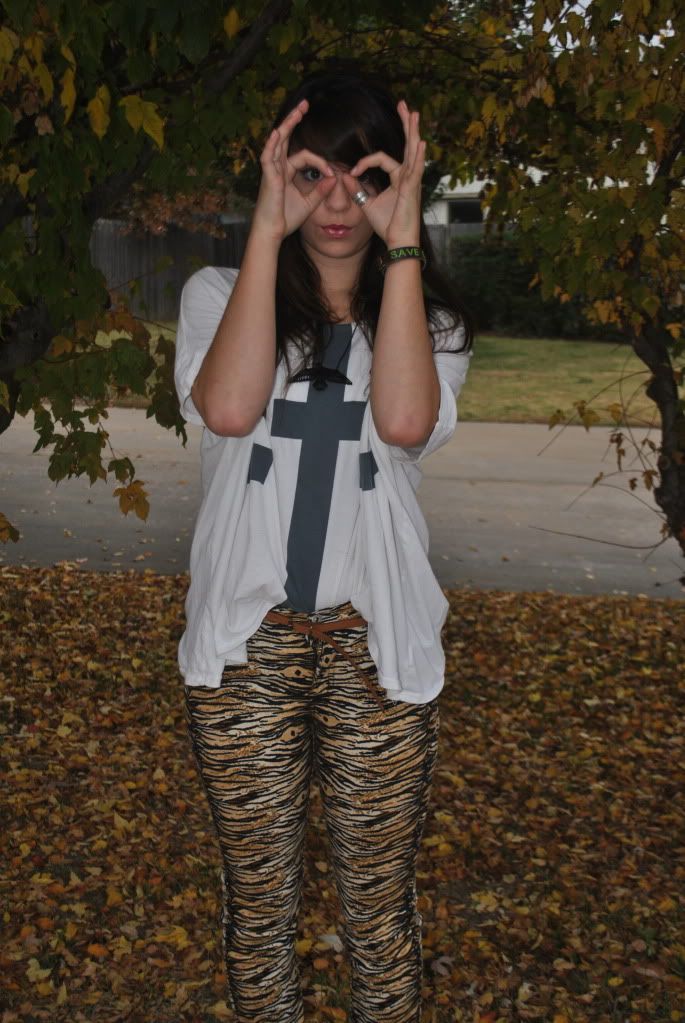 So I cleaned out my closet on Thursday, trying to be productive on a skip day, and I found these amazing pants. I originally bought them three years ago for school spirit day (Broken Arrow Tigers, if you couldn't guess) at Good Will, then stuck them at the back of my closet never to be worn again until now! I got loads of compliments on them though, they even scored me a date offer which was pretty funny. Plus they're extremely comfortable. I forget how relaxed pants feel since I don't wear them that often. But of course the pants I do own are insane. So these fit the requirements pretty well. Statement pants, I suppose.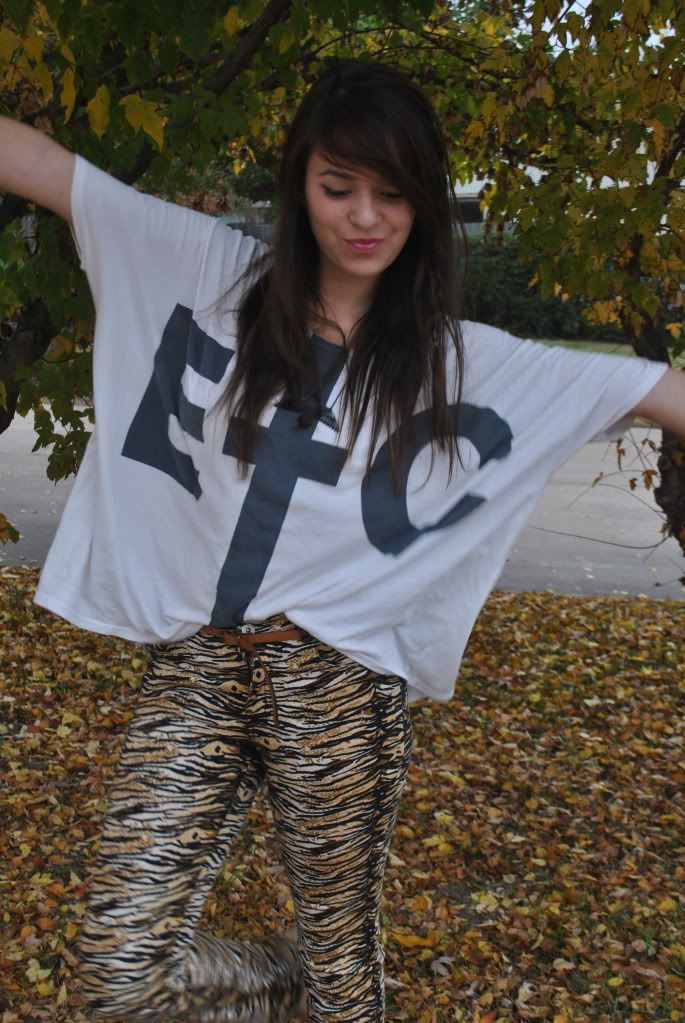 You guys have yet to see this shirt, but I've worn it a few times. I got it off the Urban Outfitters fall sale (I'm now realizing you guys haven't seen really anything I got from that sale...I have a neat poncho to show you!) and I normally hate oversized and crop t-shirts, but I'm developing a love for them. I usually hate them because I've got a larger bust, so they just end up looking funny -but, alas, I've rediscovered the miracle of a sports bra. Go from a C to an A in seconds, it's magic! So now I own four new crop tops and I'm ecstatic. I hate being limited in the clothes you wear, especially body type limits like large chests or short legs or anything like that.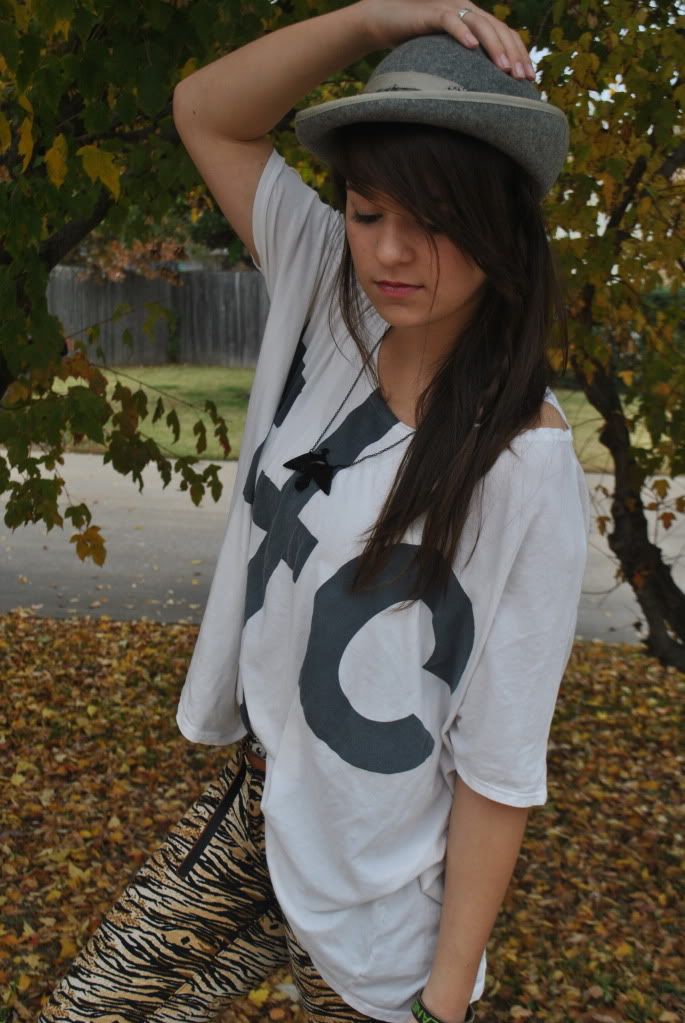 You can see in these pictures one the few days of fall we had here. It was pretty much hot weather and then insta-cold. It's supposed to sleet tonight at ten, winter is on it's way. I'm happy / sad. Jackson left for New York this morning and I bet it's freezing up there. Wah. Oh I have some good news guys! So I got the estimate for the damage done to my car by the wreck, and it's a little over $4,000. Rear ending me is the best thing that girl could have ever done to me, she's helping my college fund! Ahahah. Oh my life.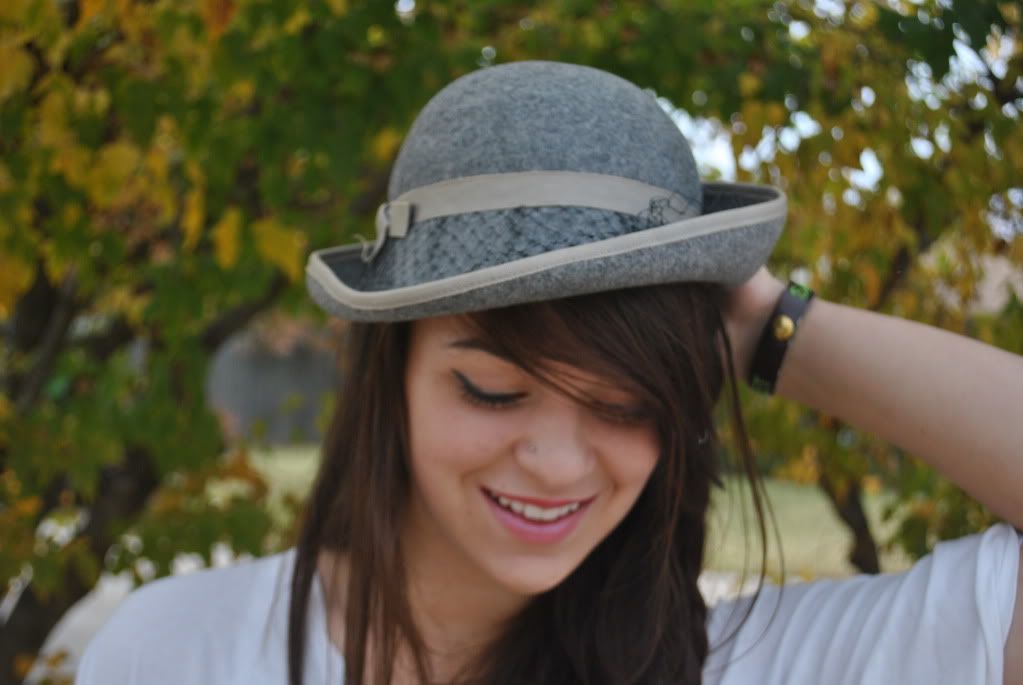 I paired this with some nude heels because I like to add some height when I wear pants -I feel like pants make my legs seem short. Probably why I never wear them. And because any other shoe besides a nude, neutral one would have been too much. The tiger stripes are overwhelming enough on their own. In a good way (at least I hope). I wore it with this pretty little hat in easy shades of grey. Plus this veil is so pretty, it sits right in place adding a perfect feminine touch to the sharp bowler rim. Ohhh lala.
And here is a wonderful necklace that came in my Domestic Violence Grab Bag from Modcloth. It's my one of my favorite (along with the kissing blue birds necklace I wore a few posts back) accessories that I got and I thought I had lost it at first! But it appeared buried at the bottom of one of my dresser drawers and I wore it ASAP. I found it when I was cleaning my room. I find so many things. I did a major overhaul of my room actually. I used to collect gift cards, tons of them from Walmart, Target, Best Buy -any place you can think of that lets you take them for free. And I had so many that we started tumb-tacking them to the ceiling. And while the colorful, insane ceiling of mine fit the personality I had five years ago in seventh grade, it really was just stressing me out. There was too much going on. So I spent two hours taking them down, with a total of 906 gift cards, not one of which was the same. 906 different gift cards accumulated over the years sitting sadly in Walmart sacks...I can't bring myself to toss them out. On the up side, my room feels so much bigger now! I even strung up some plain white Christmas lights and there is a calmer sense now. I haven't been wanting to leave my bed. Speaking of bed, I'm going to get some much needed sleep. 6.5 hours of homework is draining. But I am so close to being in the top 5% of my class! I'm at 5.49 right now, and I have been working so hard to get my rank down. In a class of 1,074 students it feels good to be number 59...but I want that top 5%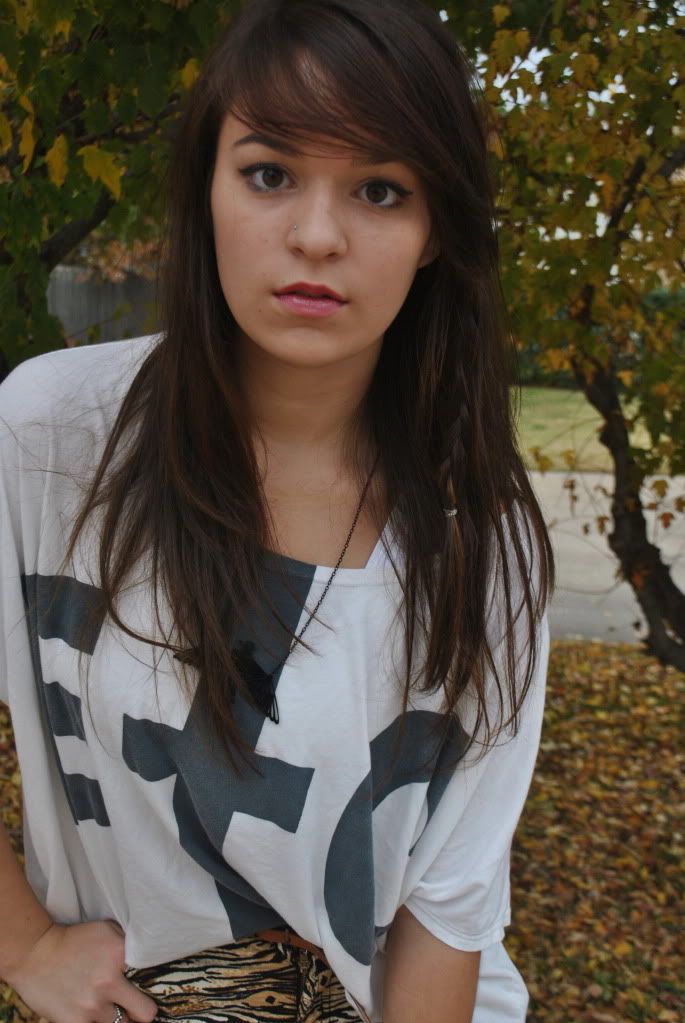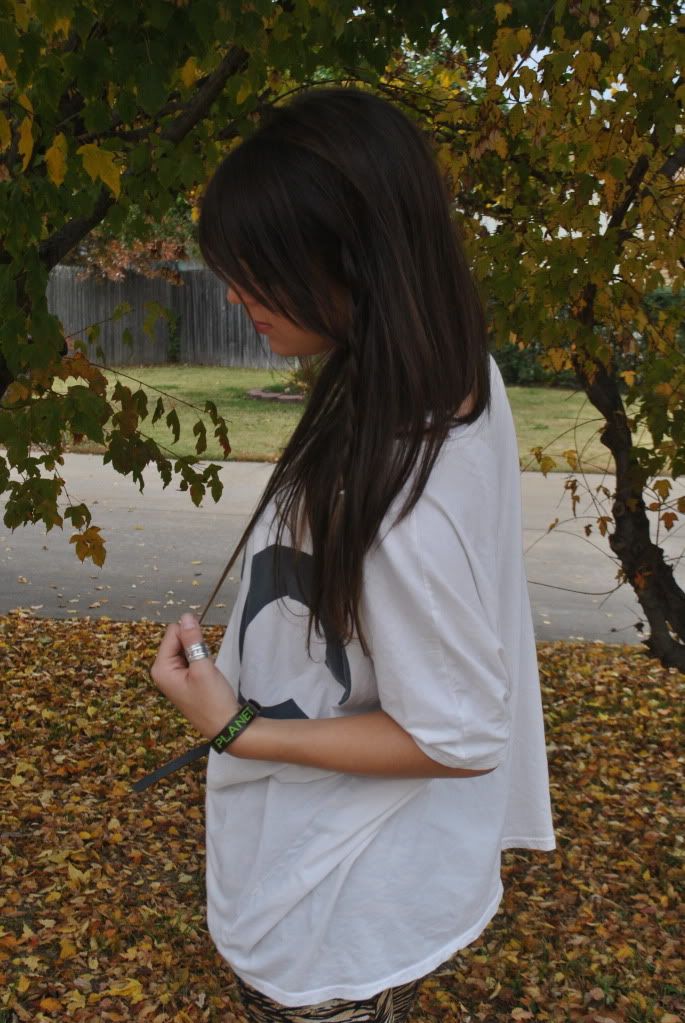 E+C Oversized Tee: Urban Outfitters
Tiger Stripe Pants: Goodwill
Skinny Brown Belt: Forever 21
Eco-Friendly Bracelet: Ancient gift from Jackson
Black Bird Necklace: Modcloth