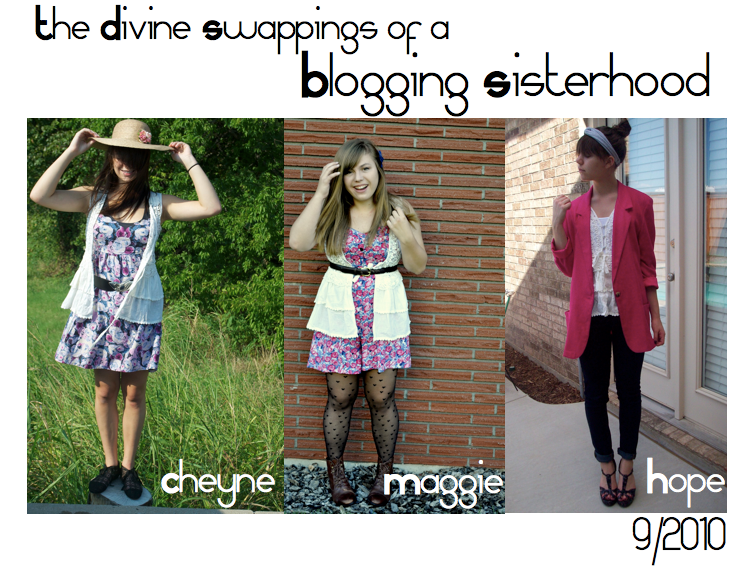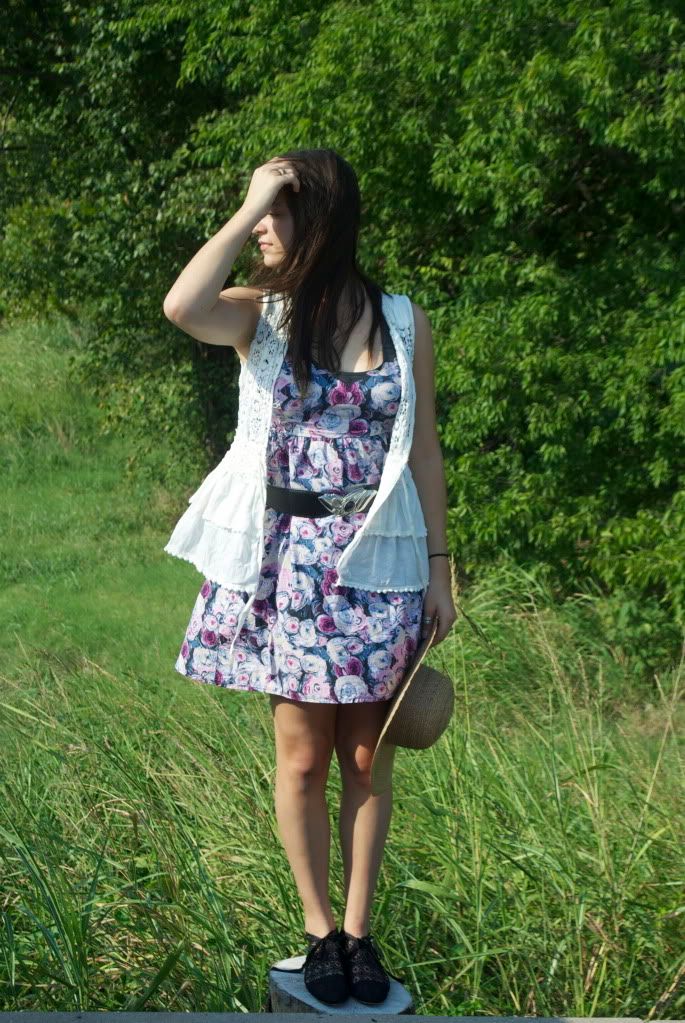 First and foremost, I am sorry for abandoning you all for a full week. To be reasonable, I had tests like crazy, so I, of course, studied like crazy. Which paid off because I got the highest exam score in my AP Economics class! I also aced my AP Psychology exam. Feeling good guys, feeling good. Secondly: ENTER THE GIVEAWAY! It ends soon! I got something to add to the pile of what I'm sending you all on a thrifting adventure last Saturday (photos soon...), and it is absolutely terribly hard not to keep it for myself. I'll give you a hint: velvet! Agh... And finally, welcome to the second post of Hope, Maggie and I's Divine Swappings of a Blogging Sisterhood. I think we've kind of decided on that as our name, so I hope you like it, and if not, tough luck! (;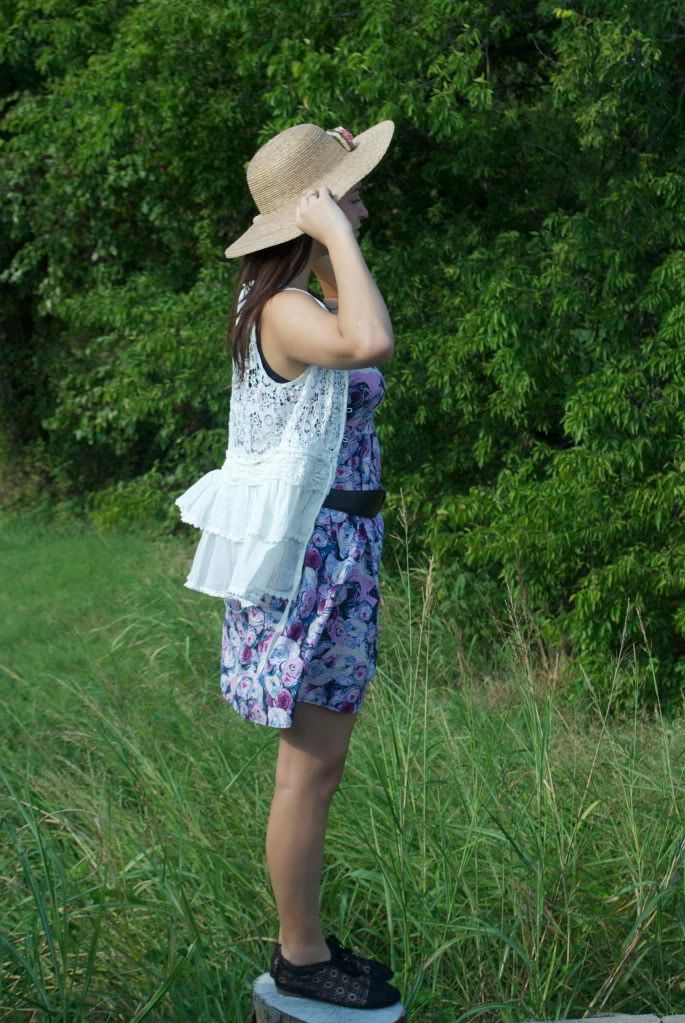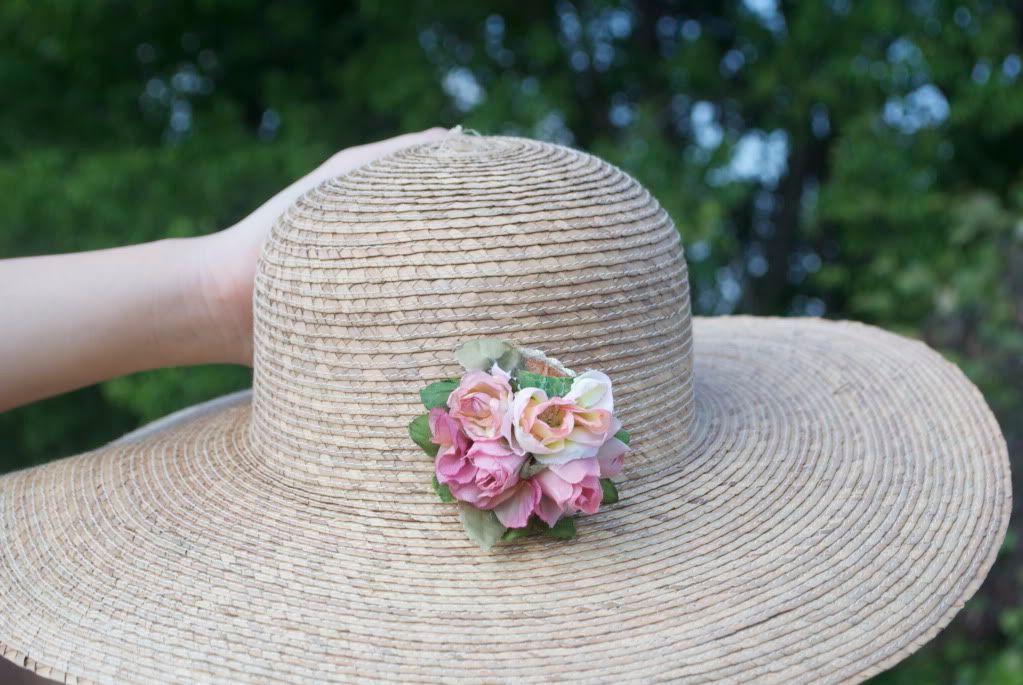 These pictures where taken a few weeks ago, so looking back on them and thinking how hot it was outside is strange. It's FINALLY fall. Autumn is my favorite season, and I dread summer. I'd much rather be cold than hot. When I'm hot it's like I need to take two hundred showers and lay in bed forever. When I'm chilly I get to bundle up in tights and comfy sweaters and drink hot tea. So ready for October (see I'll have changed my mind soon, as the heater in my car doesn't work, and I've no intentions of fixing it). Moving on, I was so SO excited when I got Hope's vest in the mail. I'd seen it a few times on her blog and I've always lusted after it (am I sounding creepy yet, Hope?). But it was kind of hard for me to style at first! Not sure why...but, when all else fails, start from the top down. You all should know by now that I love sun hats (purchased three since my last post...hmm...all thrifted though, so it's okay). Isn't this one great? Simple and the color of wheat bread with that beautiful flower right in the center!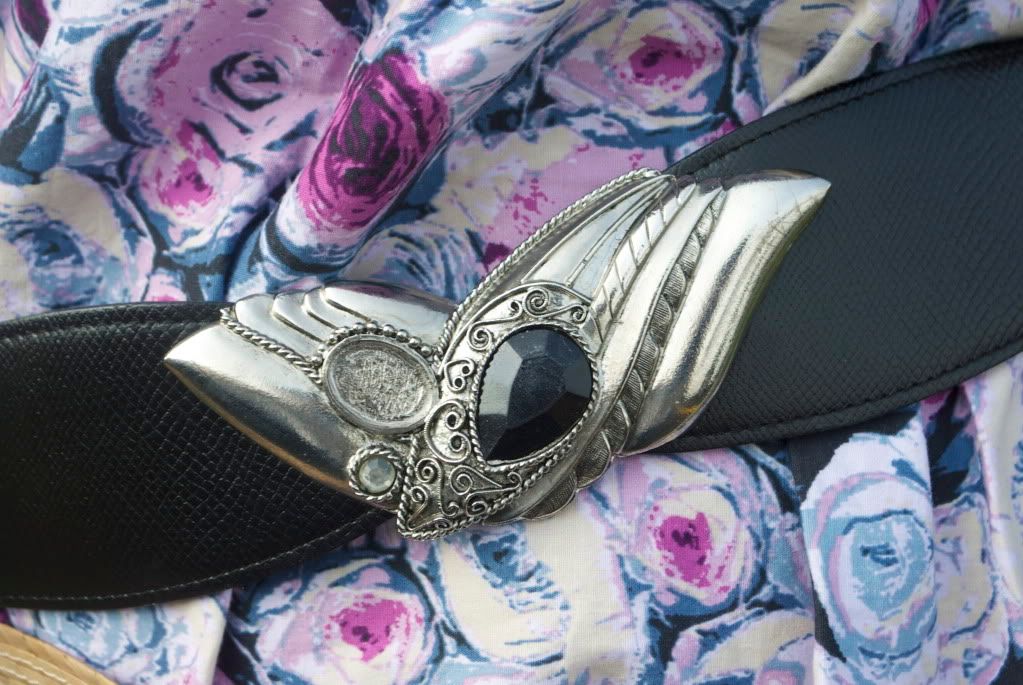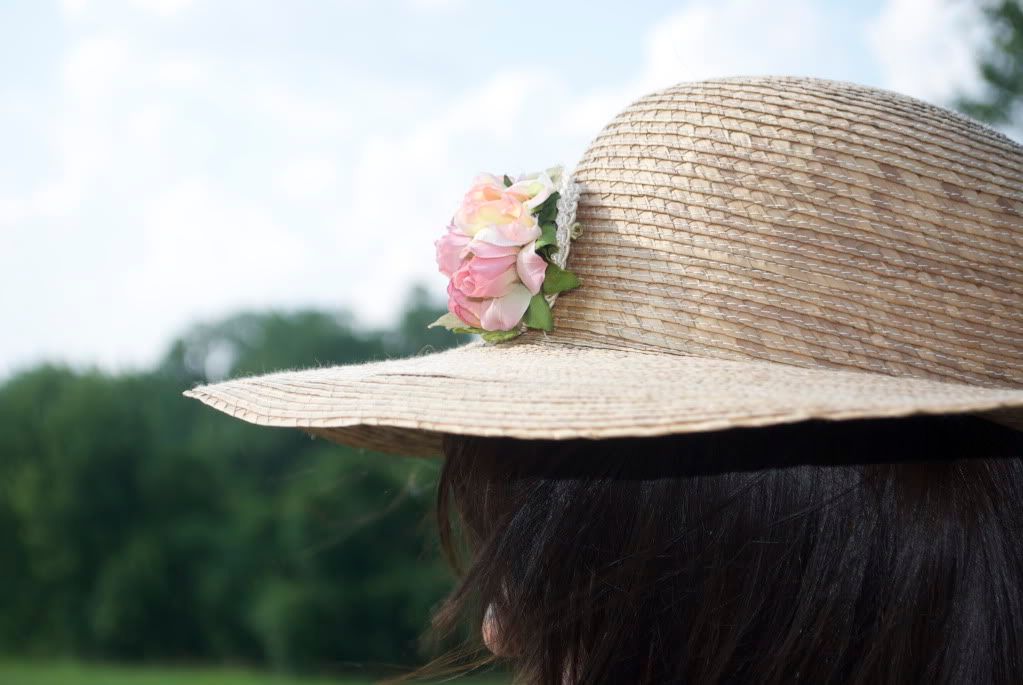 I also have been holding back something from you all...another swap! But to a different extent. My lovely lady miss Katie Paine and I were talking about how I got involved in the swap with Maggie, and she suggested we start one of our own. Katie is a year older than me, and she goes to college at OSU in Stillwater. Luckily she drives the hour and a half or so and comes to visit every weekend. We get frozen yogurt most every Friday, you guys would love her. Anyways, this is the dress of hers that I hoarded for weeks on end. Know a funny thing? The first dress I sent Katy -she already owned it! Ha, we have the same taste, exactly. I love it. More from that soon. In the meantime, be sure to check out her blog Little Love. I'm sure that would make her happy to no end! (: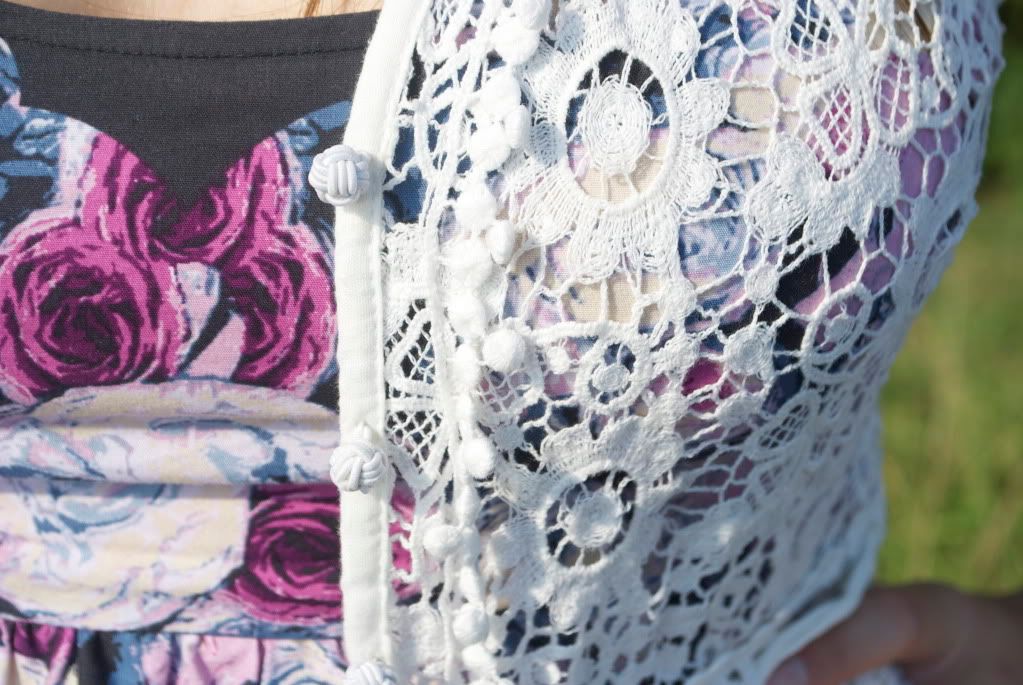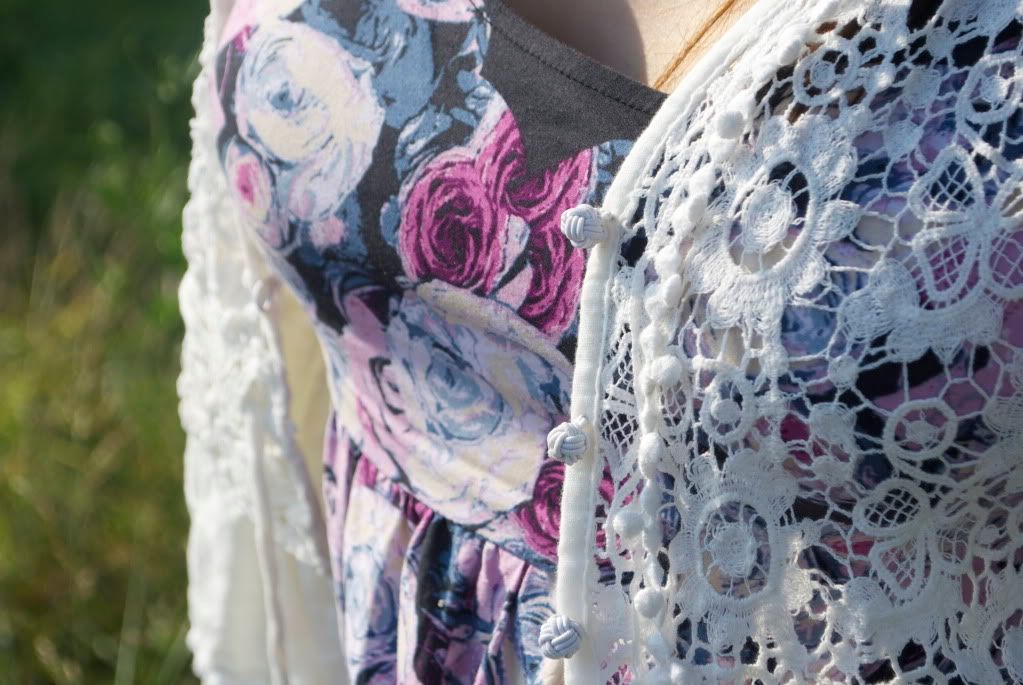 Juggling two swaps kind of makes my head want to explode, but it's worth it. I mean...look at this dress. Floral with colors so pretty they make my mind melt and it's perfect and breezy and comfortable for the kind of weather we were having when I was wearing it. I was so sad to send it back! Seriously kept it for like two weeks...mmm sorry Katie!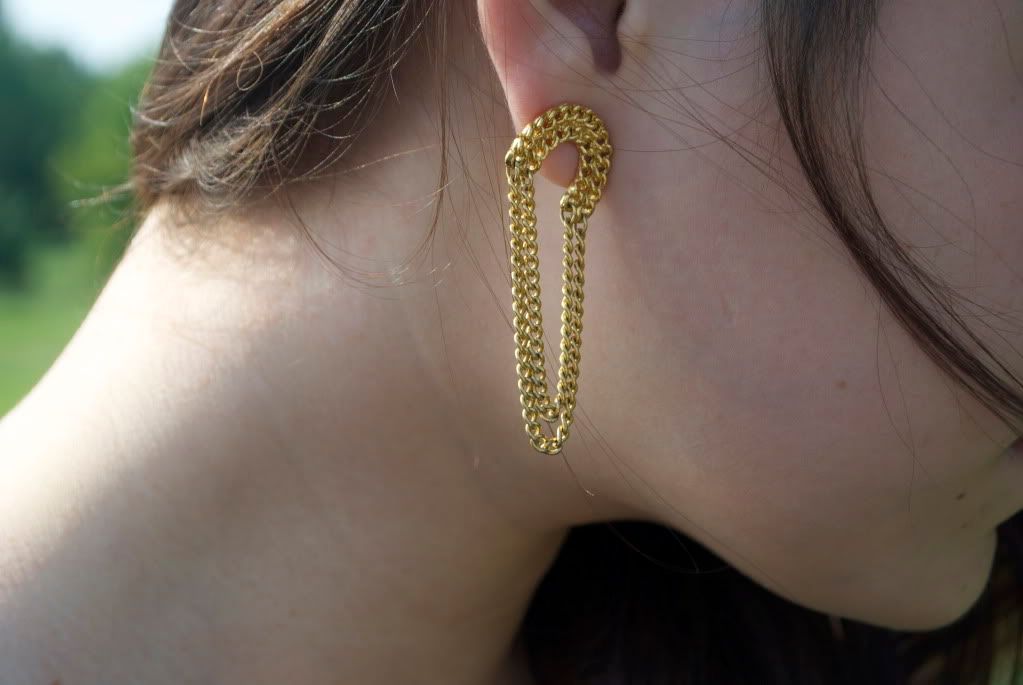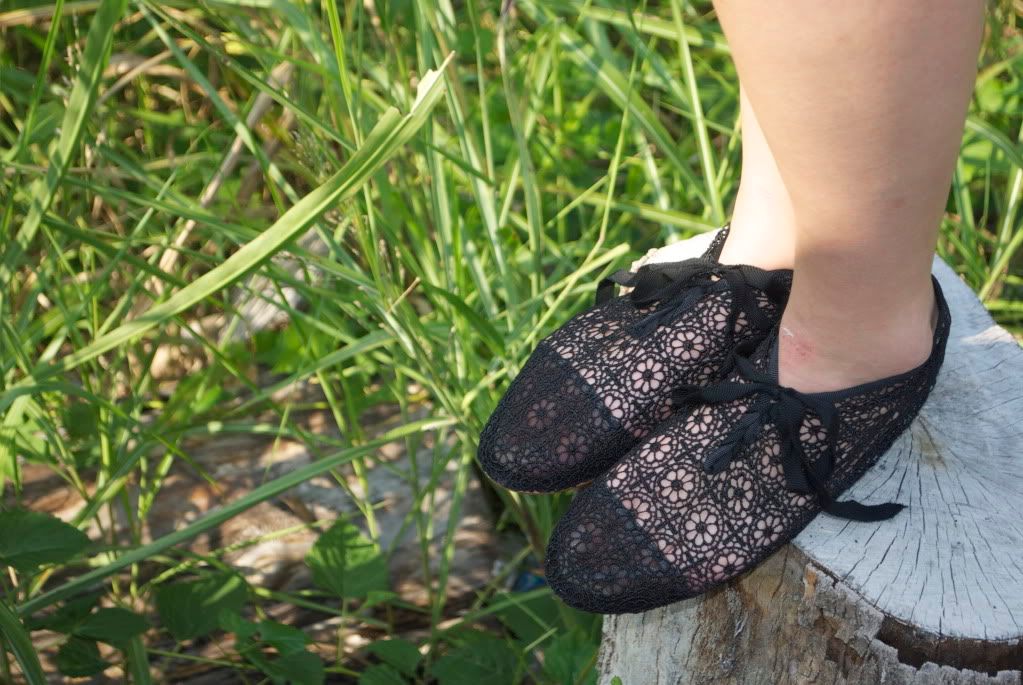 Beautiful earrings I stumbled upon at Salvation Army. I really love dangling earrings. I think shoulder touching ones are gorgeous! So glad to have gotten my hands on these, especially for only like a dollar. And have you all seen these lace shoes yet? I got them on sale on Urban Outfitters at the beginning of August, reduced from $98 to $19! What a steal. But, while they are beautiful, I cannot imagine paying near one hundred dollars for them. They are really just lace and a soul, not to steady to walk on, but mighty fine to look at. speaking of things that are mighty fine, I FINALLY GOT MY TRIPOD BACK. It's be in limbo in New York since July...but it wouldn't fit in my suitcase so I had to have Susan and Dennis ship it back. They're very busy people, and it's terrible trying to get to the post office in the city. Really. My roommate Carey is about to ship my tights back to me as well, just in time! I know what you all are thinking -did I bring anything back with me on the plane? Why yes, two suitcases and a carry on garment bag that ended up having to be gate checked because it was too big (skilled over packer)! The other good thing? I bought my Minus the Bear tickets, and also one for my best friend Katy Bruce who turns 18 tomorrow. Good thing she doesn't read my blog, so I'm at liberty of talking about her present. I'm so excited for that show. So many good concerts coming up! Band of Horses, Vampire Weekend...gonna be poor forever guys. All my money is going to concert tickets. The last good news? The Loved One reached their goal on Kickstarter! And are surpassing it even with five days left to donate. Keep on giving to the Brooklyn Babes, extra money for them increases the quality of their vintage granny panties (which I cannot wait to get my hands on). And now I'm going to make the journey to the library to work on my college essays...fun, no? 'Til tomorrow (hopefully).
What I'm Wearing:
Floral Dress: Urban Outfitters (Swapped from Katie)
White Vest: Hope's
Black Jeweled Belt: Salvation Army
Pink Flower Sunhat: Slavation Army
Black Lace Shoes: Urban Outfitters
Gold Chain Earrings: Salvation Army