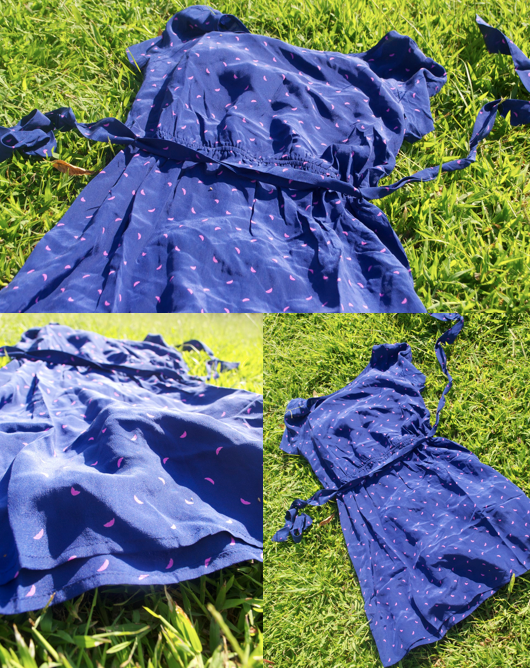 Alright guys, take a good look at this dress and I hope you like it! Because it's for

the giveaway!

Kind of...see Larry and I went shopping for the sole purpose of finding you guys a lovely dress to wear (size medium). The small problem is that I only purchase clothes that I absolutely fall in love with (not difficult for me...). And I liked the dress I picked out for you all so much that I got it for myself too, ahh I'm so lame! I got it in a different color though, red for me and blue for you! So now it's not so shameful...

and remember this is only part of what I'm giving away!

You don't get to see anything else, because I want it to be a surprise! (: Of course when I announce the winner I'll show you everything I'm sending to them, but for now I'll let the suspense kill ya. (; Oh, and know the rules before you enter. Not really too much:
1.

You gotta be a follower to be eligible. This giveaway is to celebrate the one hundred great guys and gals that follow me, after all!
2.

To enter, just comment on this post and tell me something! Anything! Funny, sad, happy, about you, a friend, a stranger. Surprise me (the most interesting comment doesn't decide the winner...I'm going to use a random number generator)!
3.

I'm going to copycat Maggie on the entry style, with a little variation. One comment is one entry, but if you reblog this post, then I'll bump you up to three entries! Please be sure and leave a link to the post. (:
4.

Lastly, please leave me your name and email address. I'd be terrible if you won and I had no way of contacting you!
I'm going to end the giveaway one month from now, to give everyone time to enter and spread the word! So it's running today, Friday, September 17th, to Friday, October 15th!
Happy Friday everyone! How was everyone's week? Mine was good even though I'm a bit bummed about tonight. I can't go to my school's football game because I have to work. Not that I don't have to work every weekend (life of a waitress...) or that I'm particularly into football, because I'm not. However, tonight is the big game of our school versus Union. We've only ever beat Union twice in the past twenty seven years. It's sad! The last time was two years ago and I was at the game! Union is a school district for kids who live between Broken Arrow district and Tulsa district, and they're considered our biggest rivals. I had really wanted to go tonight since it's my Senior year, and even though I don't care much for the sport, it would have been fun to hang out with my friends all night and paint my face and all that good, typical high school stuff.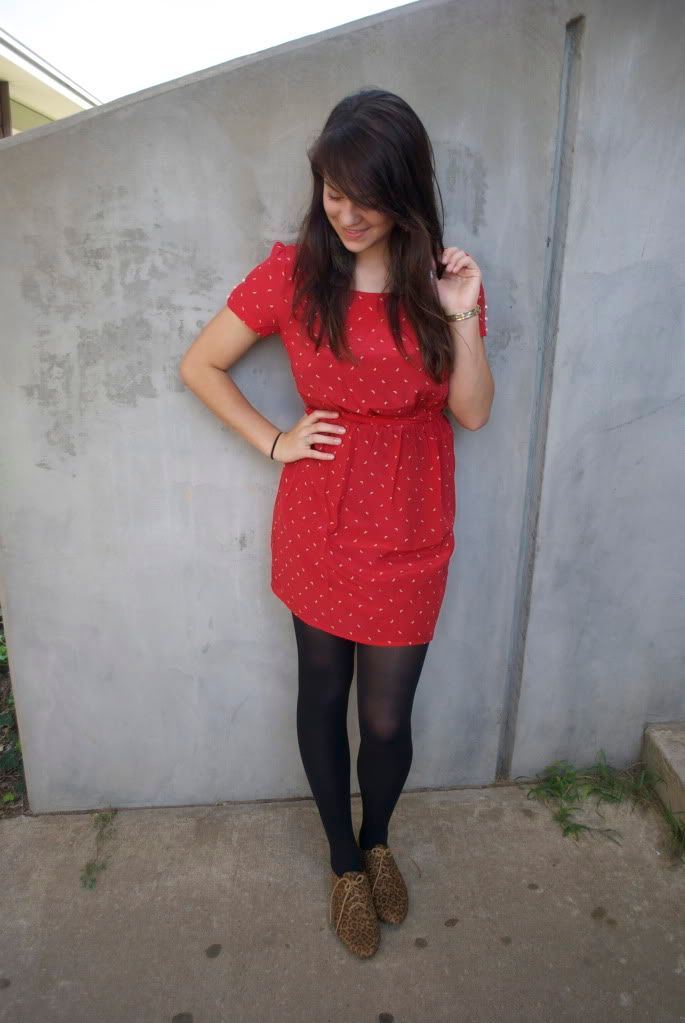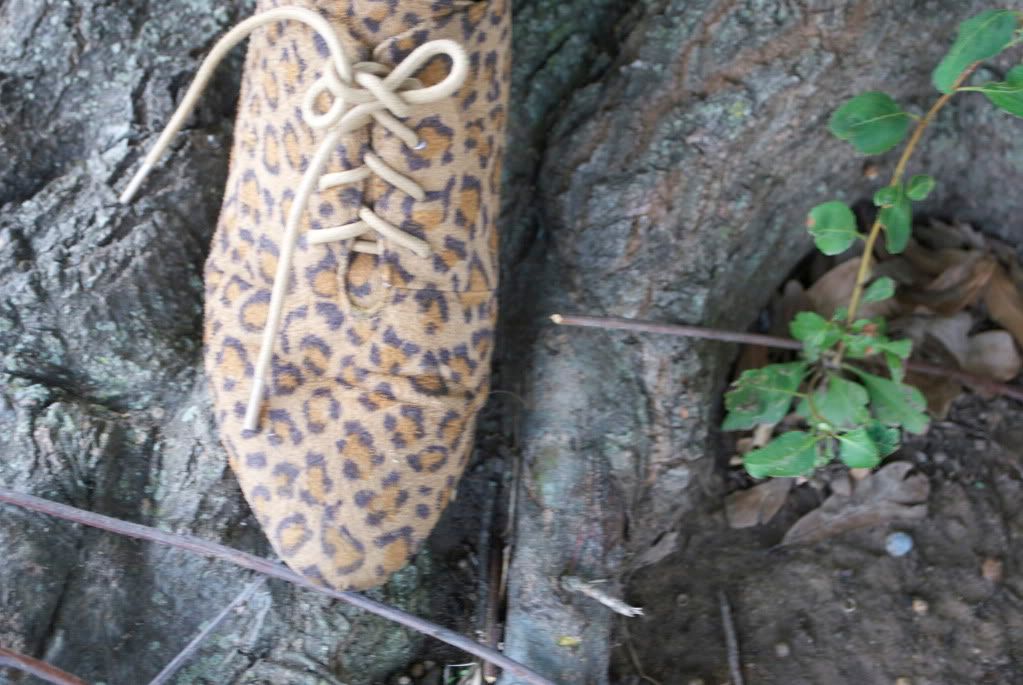 Writing all that made me so excited about the game, you guys have no idea! Anyways...I was bad and bought three pairs of shoes this week. Garrison today asked me if I spent any money on food or gas, since I'm always showing up with something new on my feet. HA. Well I had to have these, the leopard was screaming at me! There is this very stylish girl at my school who is super edgy and drives a '72 Camaro. How badass! These shoes reminded me of her. Larry said they where "So Michelle." Hhahahaha. But really, I did need a little injection of leopard in my wardrobe!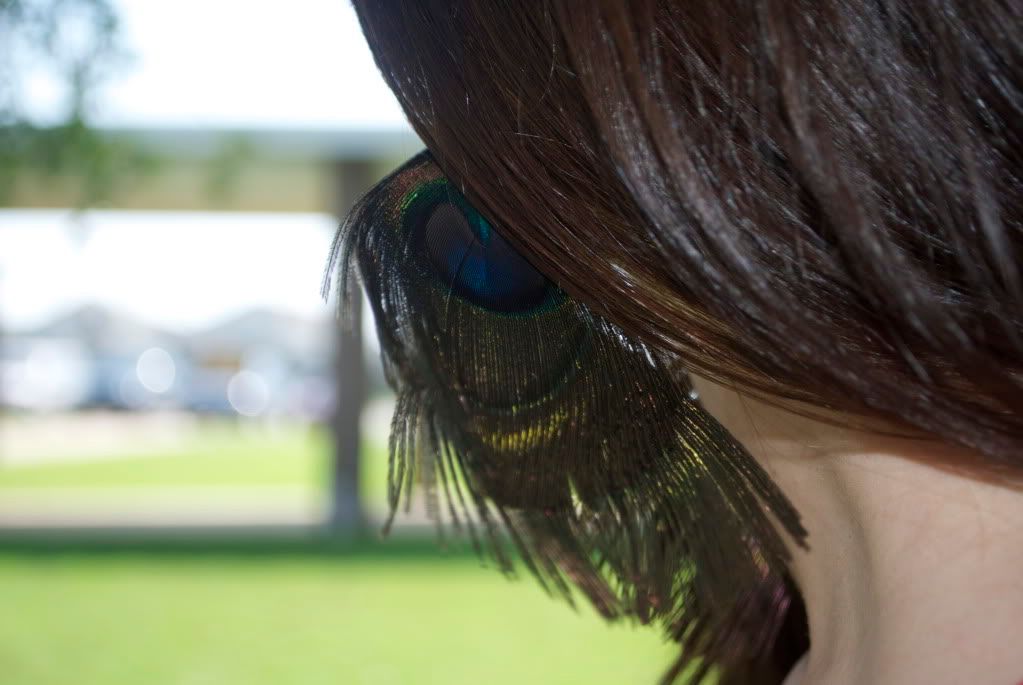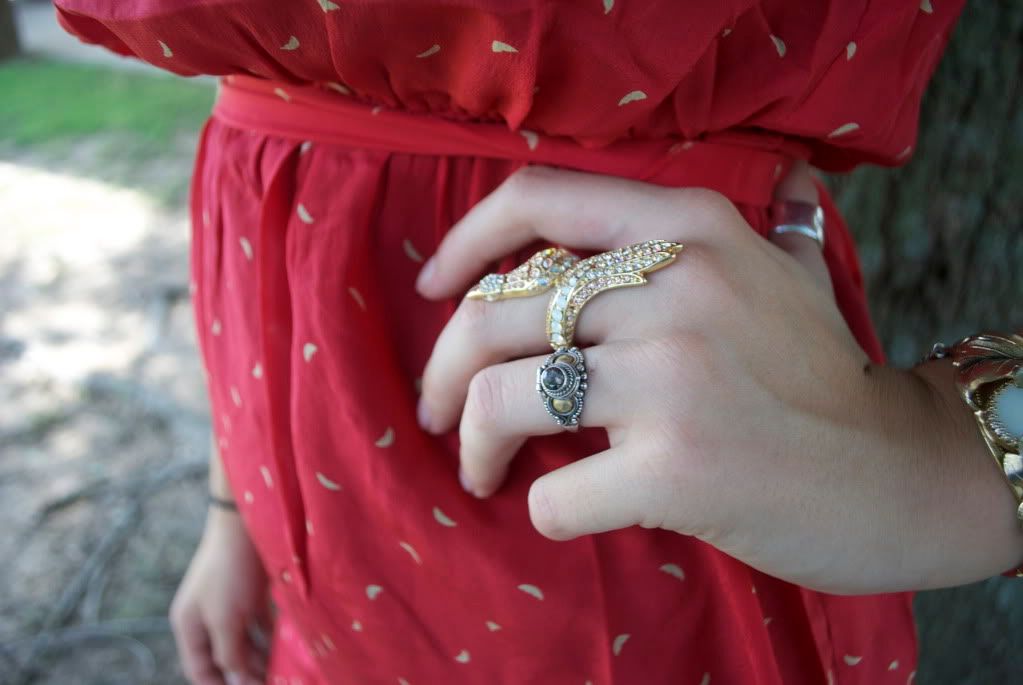 Oh, did you notice that TIGHTS ARE BACK! For those of you who haven't followed my blog when it was less hot outside, I am an avid tights wearer. I have a whole drawer full in every color (although part of them are still in New York in transit...long story....) and I wear them with any and everything. Really, it's a bit sad. I don't care though, I love colorful and patterned legs! Did you guys check out that amazing ring? I'm wearing it right now and it's cheap from Forever 21 and turns my finger green, but I could never love it less. I get so many compliments on it! A majestic, elongated bird resting on my finger can always make me feel better. Wouldn't that make anyone feel better? Well, I've got to get ready for work, don't forget to enter the giveaway and have a great, great weekend!
Red Patterned Dress: Forever 21
Peacock Feather Earrings: Forever 21
Leopard Shoes: Forever 21
Golden Rhinestone Bird Ring: Forever 21
Gold and Opal Leaf Bracelet: Vintage