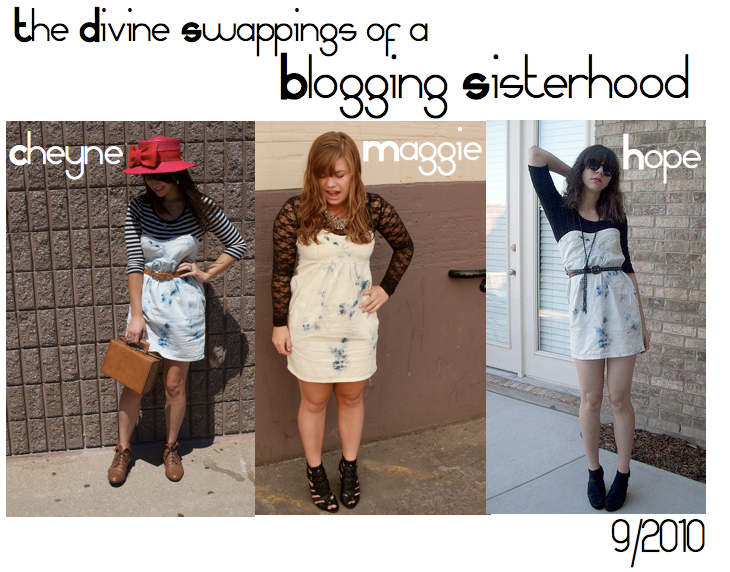 It's FINALLY here! The Blogging Sisterhood's very first closet swap! In case you didn't see the video I made when I received the dress in the mail, or the posts where I talked about it, Maggie of Lifesize Paperdoll, Hope of Simply Hope and I are doing a clothing swap! We start with Maggie in Idaho, then to me here in Oklahoma, and then finally to Hope in Texas. When Maggie originally approached me about it, I was so excited! It reminded me of the Delightful Dozen, which is a closet exchange between twelve of my most favorite well-known bloggers such as Jen at Sally Jane Vintage and Elizabeth at Delightfully Tacky. It's Hope's turn to send something, and then me. You guys will probably see swap related posts once or twice a month. Oh! And if you haven't checked out either Hope or Maggie's blogs, you need too! Also, as part of our sisterhood, we send a journal along with whatever we're swapping where we write how we style it, how our day was, just anything! It's so amazing. I could not be more thankful to be part of this. (: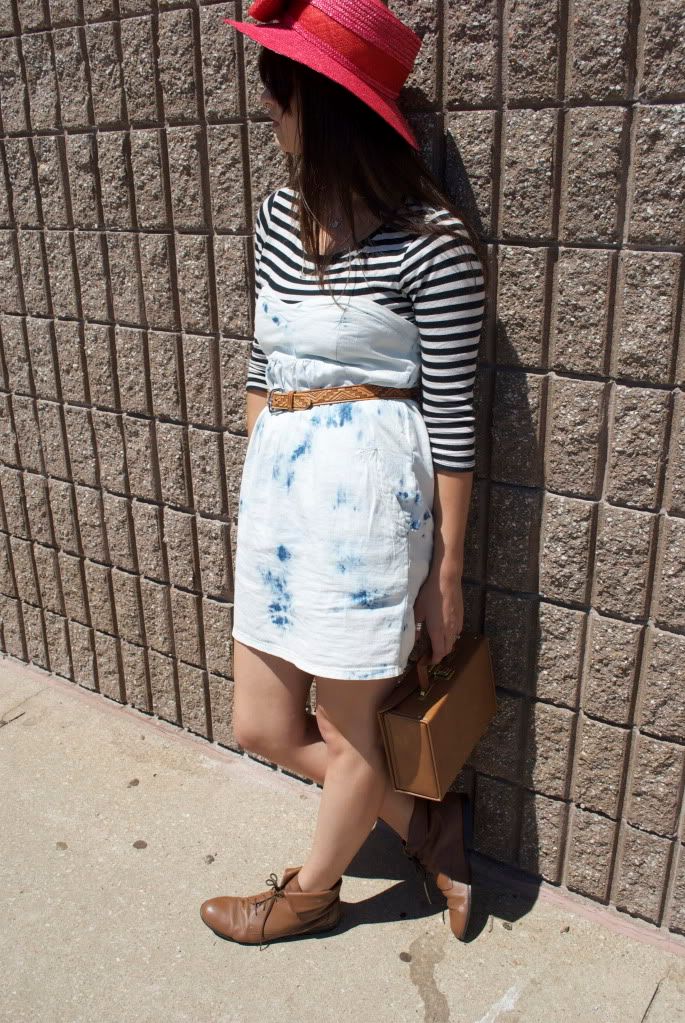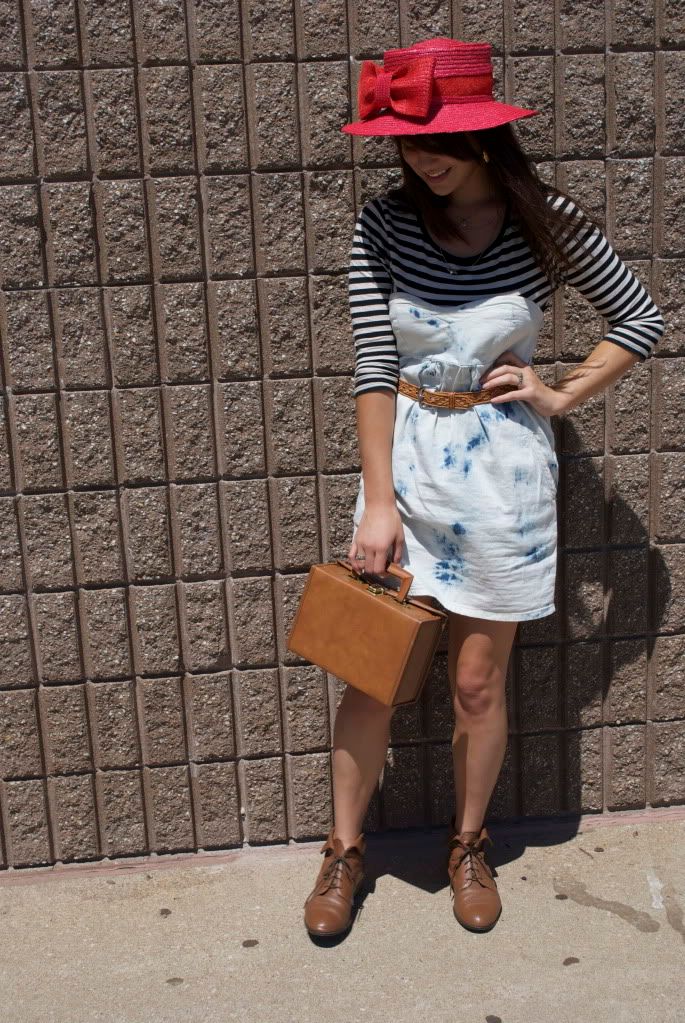 Maggie, Hope and I wear about the same size...except for Maggie is so very SHORT. So this dress rose up a little high on me, but I'm one to wear my dresses shorter, so it really wasn't a problem. And I'm bigger in the bust than both the girls, and I thought this dress was so perfect but I was so worried that I was going to spill out the sweetheart bustline. Had to go braless. I made it through the day without any incidents though! I even managed to dodge administration...dress was way out of dress code. Then again, I never follow dress code...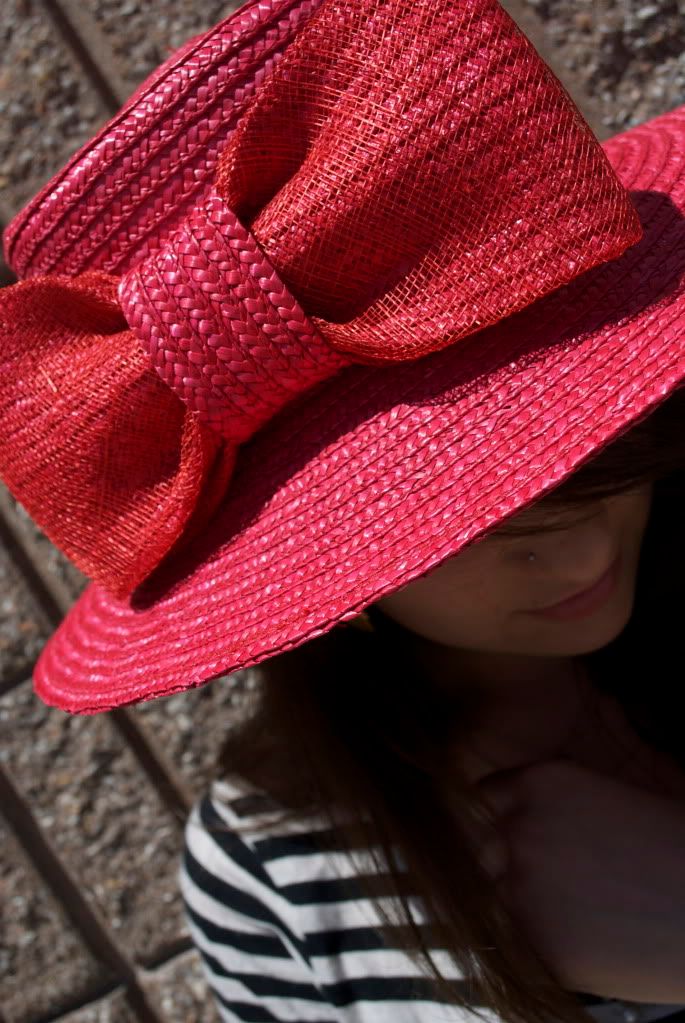 As soon as I pulled this dress out, I knew I wanted to keep it pretty neutral with one, big pop of color. My favorite, large red hat was the exact thing I had in mind. I love this hat to death, I have no shame and I'd wear it anywhere. When people see it they tell me I look like an old black woman on their way to church...good thing I think older women going to church always look so stylish. I love to imagine how they must of dressed up when they were younger every Sunday, with their kitten heels and lace dresses and floral prints. The best.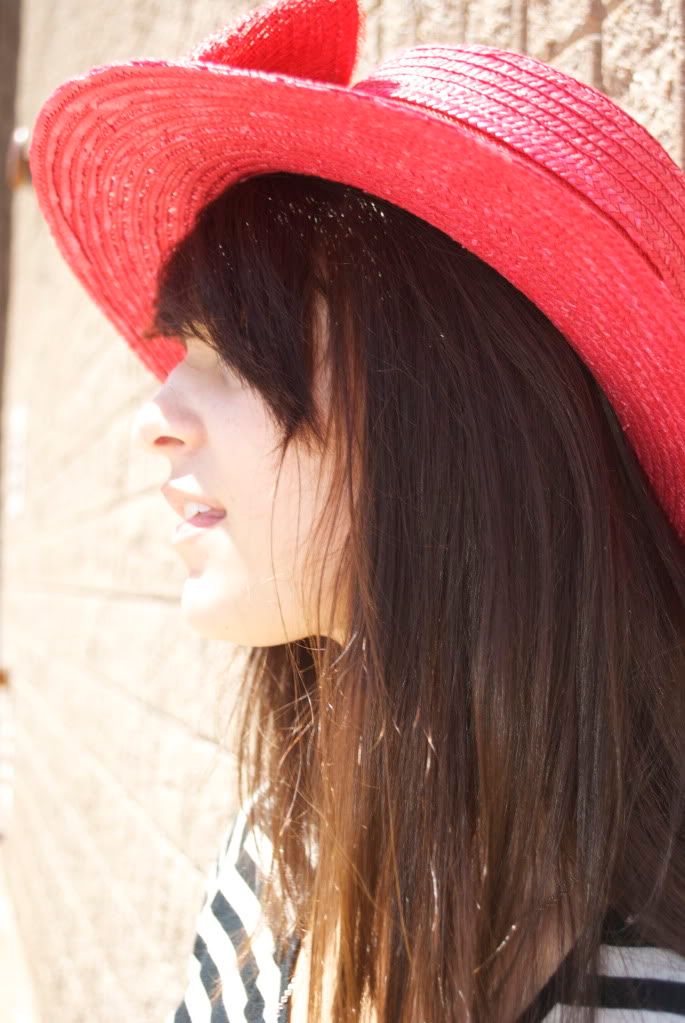 Like I said earlier, the bust on the dress was tiny, so I had to put on a shirt that didn't have a deep neckline. Stripes looked so great! Plus I really like quarter-length sleeves. I feel like I can never find shirts with quarter sleeves that I like though. I picked up this basic, and they had it in three other color combinations. I regret not getting the other ones, because this is perfect for layering. My friend Callie has it too!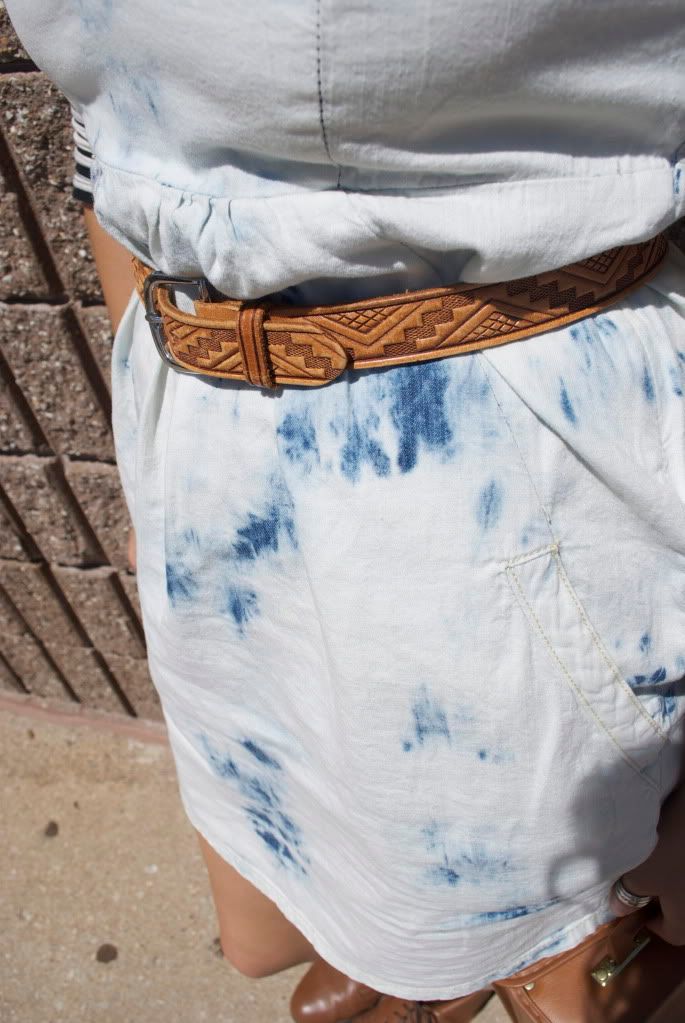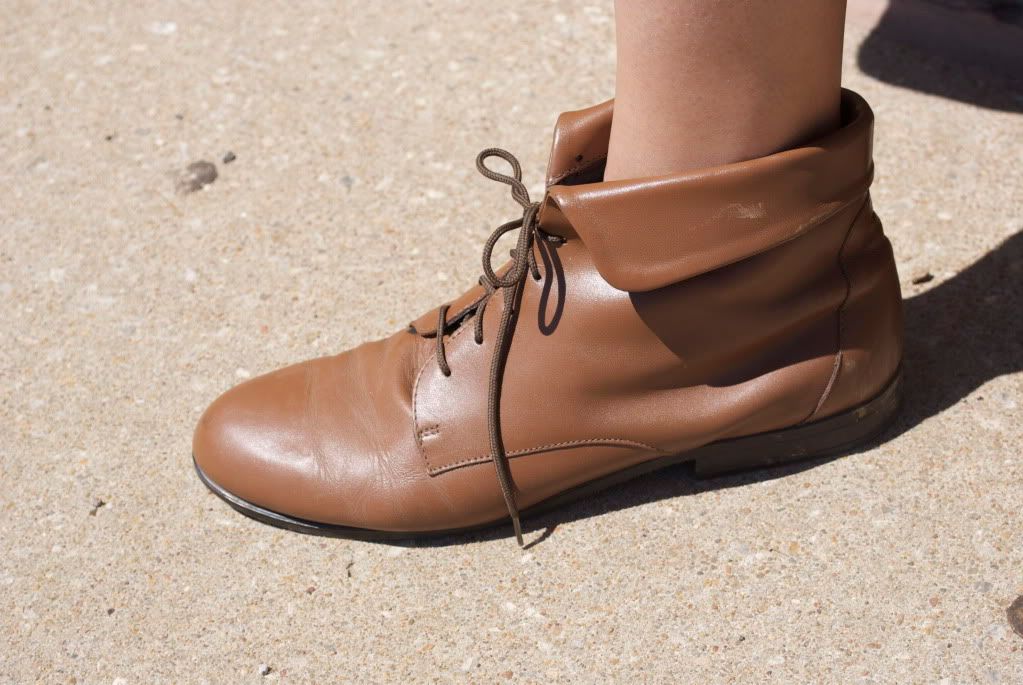 Both these boots (which you've heard me rave about on other posts) and the belt are thrifted. And although you've seen me style the boots already on my blog, the first time I wore them was with this dress. But I wear the heck out of them, so it was unavoidable for them to appear on my blog in the time between taking these pictures and posting them. And that belt! I really love belts with designs on them, and this one reminds me navajos. Plus I love the creamy tan. I always find black, dark brown and white belts...but rarely do I stumble upon light colored ones like this one. I also wear this belt probably entirely too much.
Well, I hope you liked the first swap! More to come, more to come. Now I'm going to go study my AP Economics. Have a wonderful Thursday! (:
Acid Wash Dress: Maggie's
Creamy Tan Navajo Belt: Salvation Army
Brown Pixie Boots: Salvation Army
Tan Hand Box: Salvation Army
Gold Feather Earrings: Salvation Army
Red Bow Straw Hat: Yesterday & Today Collectibles
Black & White Striped Shirt: Target