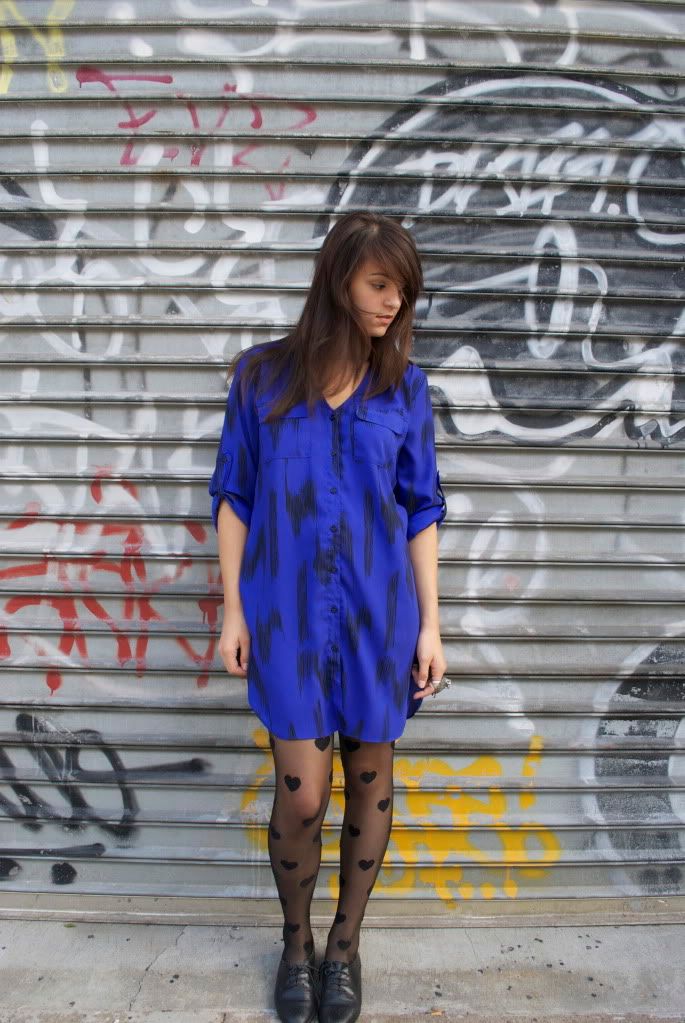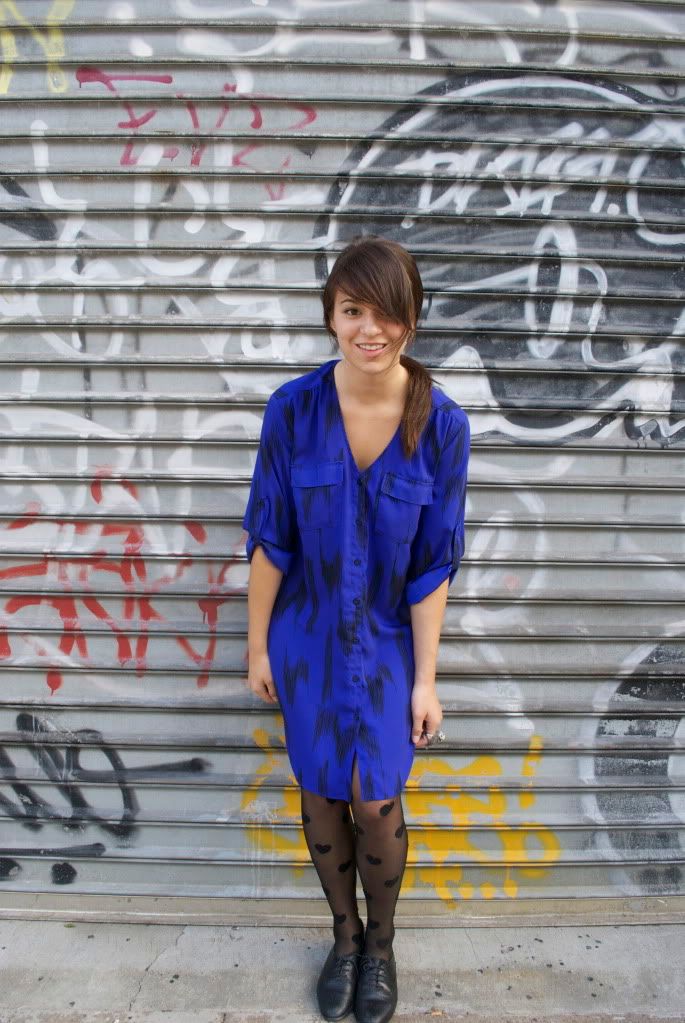 Okay, is everyone good and mad at me for kind of neglecting the blog this month? With good reason, school school school. I've been working really hard in my classes, I'm a dedicated writer. I finished my personal essay I had to compose for Kat's class (we call our teachers by their first name...typical art school) and I actually like it. So after we workshop it, Kat critiques it, I revise it and then some final OCD nitpicking, I'll post it up for your enjoyment. It's about the moment I "became a writer." And now I'm going to be more dedicated to you all. I promise, for the last ten days I am in New York, an outfit post everyday. And if I don't have to follow through you all have to rag on me or something, keep me to my promise! I'll save all the museum, friend and party photos for review posts when I get back home or something. I do not not not want to go home in the slightest. So sad that I only have eight more days here. And I took these when I got out of school and hour early because my Foundation teacher was really pleased with our devotion to the discussion were where having about Gail Scott's Climbing the Coiled Oak. We're under another head advisory so that's why I look so hot and like I'm about to die.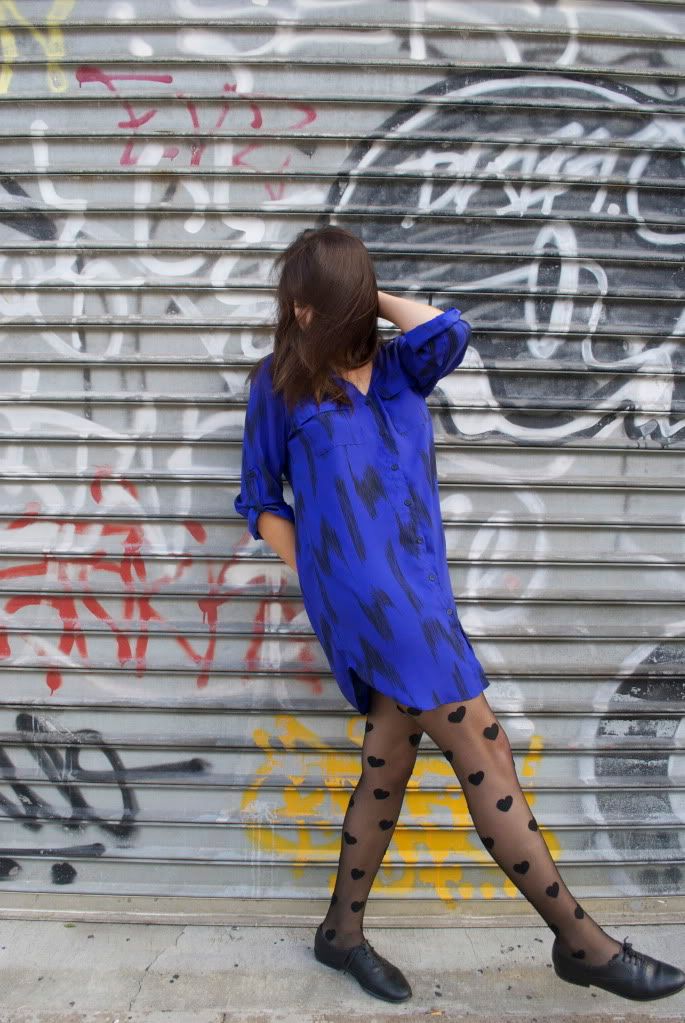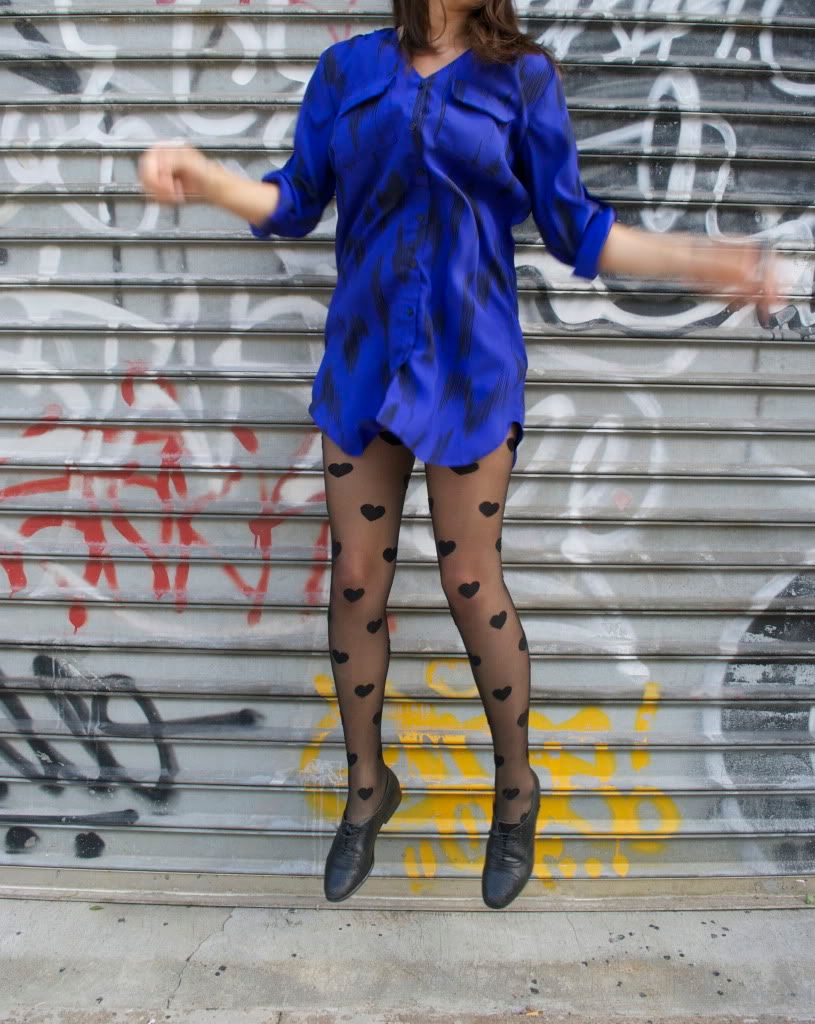 Just to let you all know how much I love you, I killed for these photos. I was hot and sweaty, I had to upload these one by one because Photobucket hates me, and I had to ignore people staring at me from their apartment windows like, "What is that narcissist doing taking photos of herself and jumping around like kangaroo?" Much commitment, go big or go home I guess? Anyways aren't these heart tights so perfect? I've been raving about how I wanted them forever and these are amazing, and I'm impressed with the quality since they're from Forever 21...only one or two noticeable runs after wearing them all day. And I hope you all aren't too frustrated with my lack of interesting footwear...I'm just so limited. Wearing heels is a huge mistake. I found that out the hard way, and I have blisters all over my ankles and the skin on the bottoms of my feet hate me. So flats for a little while longer.
These earrings are so beautiful. Delicate little silver spirals hanging in a perfect curve, they make me feel so fancy. Another jewelry gift from my roommate Carey. I'm so sad that she's leaving for North Carolina tomorrow...I'm going to be all alone in my apartment most nights. Boo! And this owl ring that my mom got me for my birthday, isn't it great? Big but not gaudy, and who doesn't like a little sparkle? I'd wear it more often, but to be honest, the bulk of it irritates my hand. And I cheated and took these inside because I felt idiotic standing on the sidewalk, holding my hand out in front of my camera tripod concoction.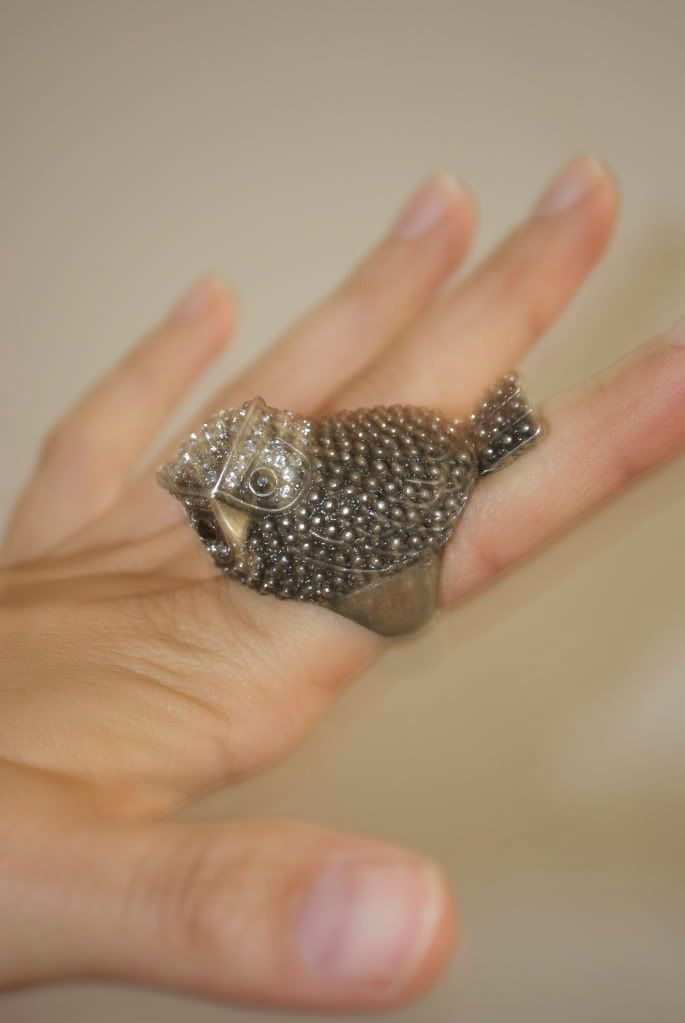 Hope everyone has a wonderful Friday tomorrow! I'm going to the Metropolitan Museum of Art, then to China Town on Saturday with friends. And then a party on the rooftop of my apartment that night with everyone and lots of glow sticks. So excited! (:
P.S.

So the Flickr difference? I noticed an astonishingly large difference in quality between uploading my pictures to Photobucket and then to Flickr...the only problem is that Flickr only lets you have one hundred MB a month which is no wear near enough for us bloggers. But around $25 a year gets you unlimited. What is your opinion about Flickr? Is it worth the money? Lemme know!
What I'm Wearing:
Indigo Shirt Dress: Urban Outfitters
Sheer Heart Tights: Forever 21
Jeweled Owl Ring: Birthday Gift from Mom
Silver Drop Spiral Earrings: Gift from Carey