I had the most amazing birthday ever. I got labeled the White Zin Girl at Hosea's, because instead of dabbling with the green fairy or the keg, I had my most favorite wine...by the bottle. But it was my birthday, so hey, no finger wagging you hear? After things got a little too crazy at Hosea's, Zane and Danny and I dragged a very intoxicated Callie back to the Boydell where we all went up on the roof to sleep. However, my friend Nathan made me a deal: stay up all night and I get treated to breakfast in the morning. So instead of sleeping I watched the sunrise and then headed to Old School Bagel Cafe for the most delicious veggie bagel on the recommendations of Nathan. Avocado, cucumber, veggie spread...I want one so badly right now! Haha. And after that we rendezvoused to the park with Jordan and laid in the grass. At ten in the morning I felt like it was six in the evening because I still hadn't slept. So then I made the drive home and tried to catch some sleep before my birthday sushi dinner that night with all my friends, but sleeping, as nice as it seemed, did not work. As tired as I was and no matter how long I lie in bed, I just kept tossing and turning. So then Jackson came over and made fun of me for ordering bunny ears off Urban Outfitters and such. Skipping over the next five hours or so because this paragraph is already way to long and rambling, straight to the good stuff. Also I feel like the picture below makes my legs look deceivingly long?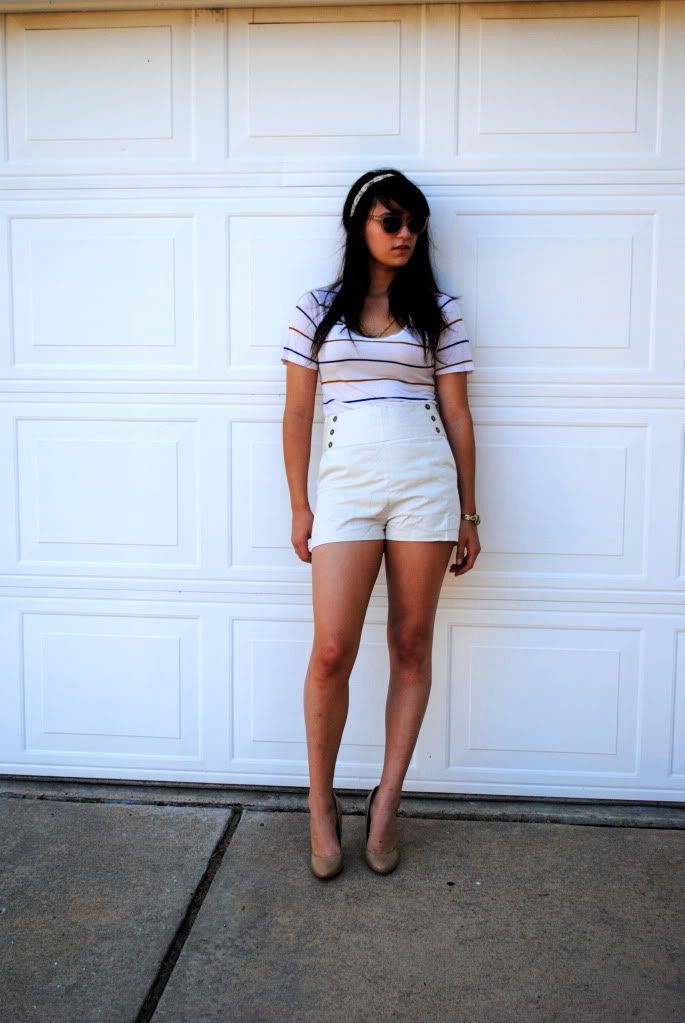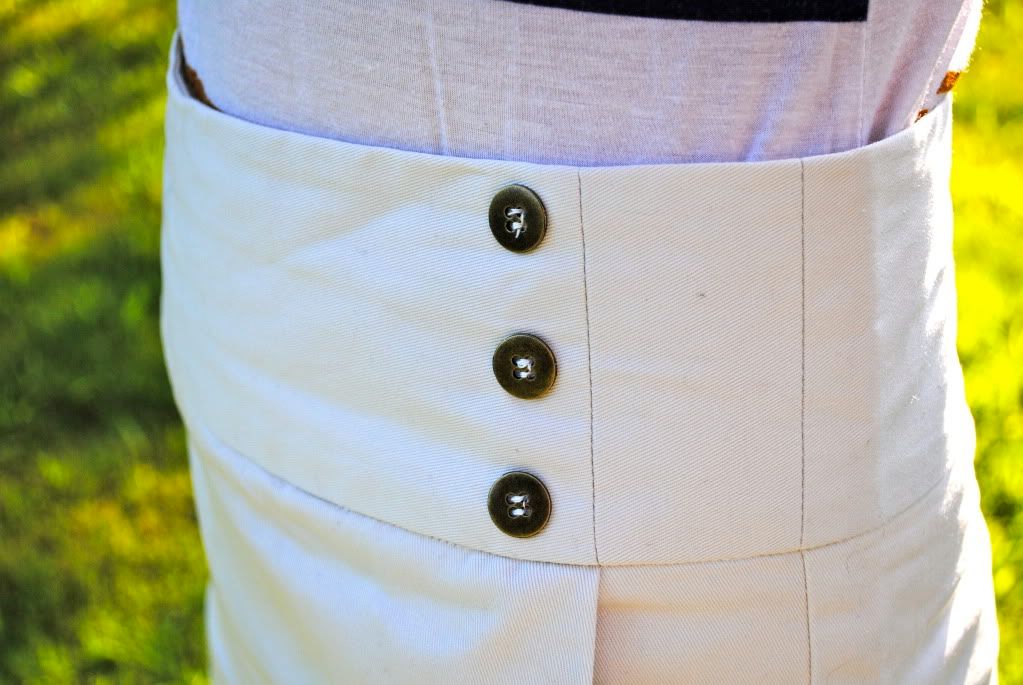 As I have told you all, I am already developing a bad habit of online shopping with my debit card. And when Jackson was over today my order arrived! I got twenty percent off because of June being my birthday month, so I went a little crazy. I got two pairs of shorts because I desperately needed some shorts, and aren't these ones just perfect? I've always wanted a good pair of sailor shorts, but I feel like all the ones I've tried have fit way too high up. Almost like a one piece swim suit! Haha, but these are wonderful. Got tons and tons of compliments on them, and I think they are really figure flattering. I chose white knowing very well that they would be prone to spills, but I couldn't resist the fifties charm of white sailor shorts. I even got black birthday cake icing on them. Good thing for bleach, right?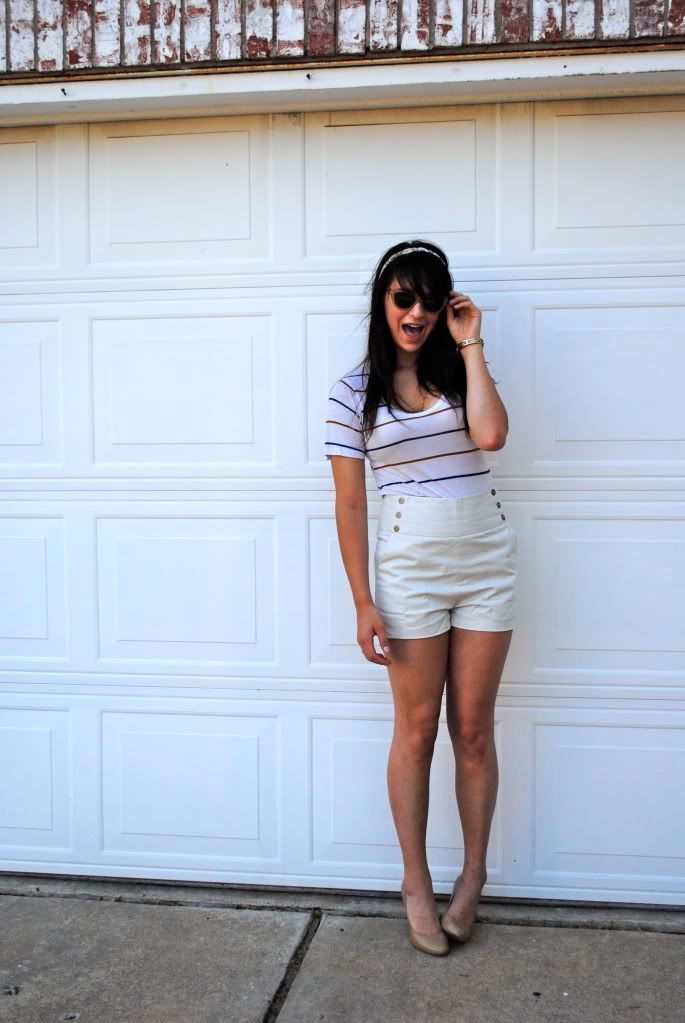 Speaking of the fifties, aren't these sun glasses just divine? The cat eye and nude tone make them so...sassy? I'm not usually a Ralph Lauren kind of girl, but something about these just seemed so perfectly classic that I had to have them.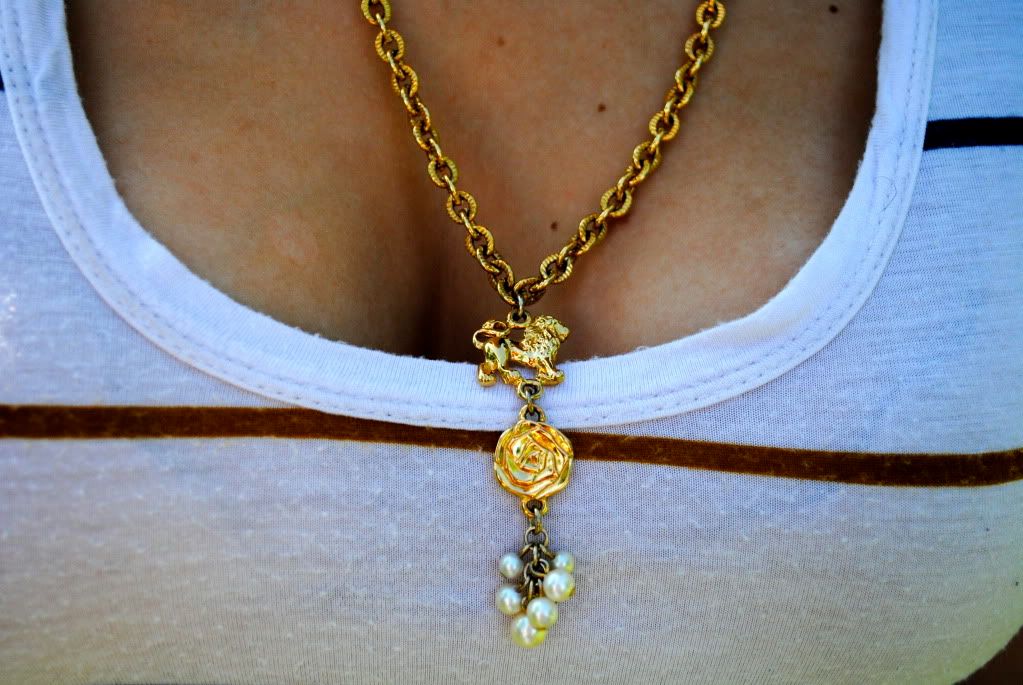 This vintage opal and gold leaf bracelet is my favorite piece of jewelry. The old fashioned clasp, the intricate design....I'm just mad over it. I wish I could say I stumbled upon this in some little dusty shop, but really it's Katy's that was sitting unworn in her car. I promptly laid claims on it!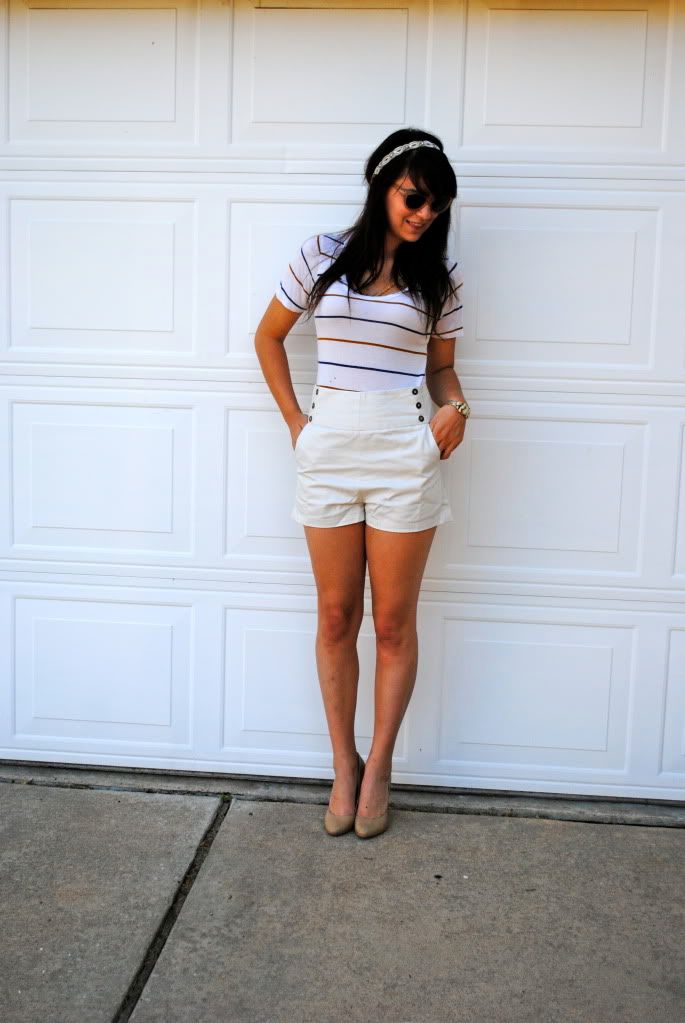 And now there's only eight days until I leave for New York...ahhhh! And I just slept for around fourteen hours after staying up for a record thirty seven hours. Are you impressed? Because I am. Time to head off to work. I need to make some money after spending all my dollars on this online shopping! :D
Striped T-Shirt: BDG Urban Outfitters
White Sailor Shorts: Urban Outfitters
Nude Heels: Target
Nude Cat Eye Sunglasses: Ralph Lauren
Vintage Gold Leaf & Opal Bracelet: Katy's
Jeweled Headband: Anthropologie
Vintage Gold & Pearl Necklace: Belonged to my step-grandmother
Cheyne.