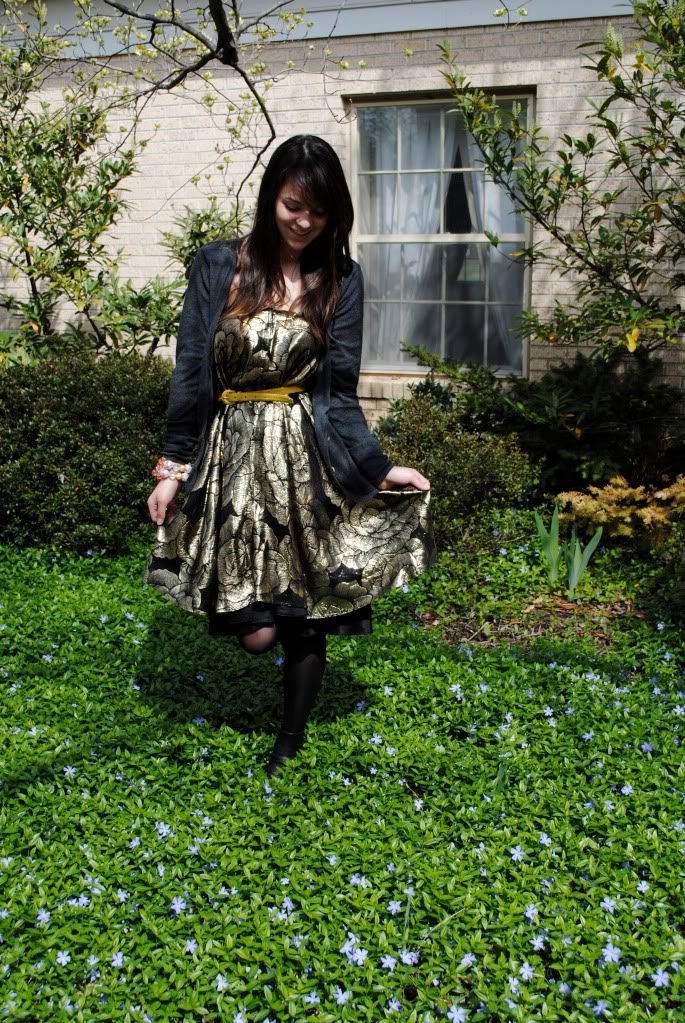 I'll confess that this is actually what I wore today, but it's from Saturday when Cayla and I went thrifting and to Ida Red and everything. I've just been so busy with trying to get my grade up in my math class (Pre-Calculus...ugh...) and working on my video that I've had no extra time at school. I should probably invest in a tripod or something because I don't know what I'm going to do when summer rolls around and I don't have a daily photographer.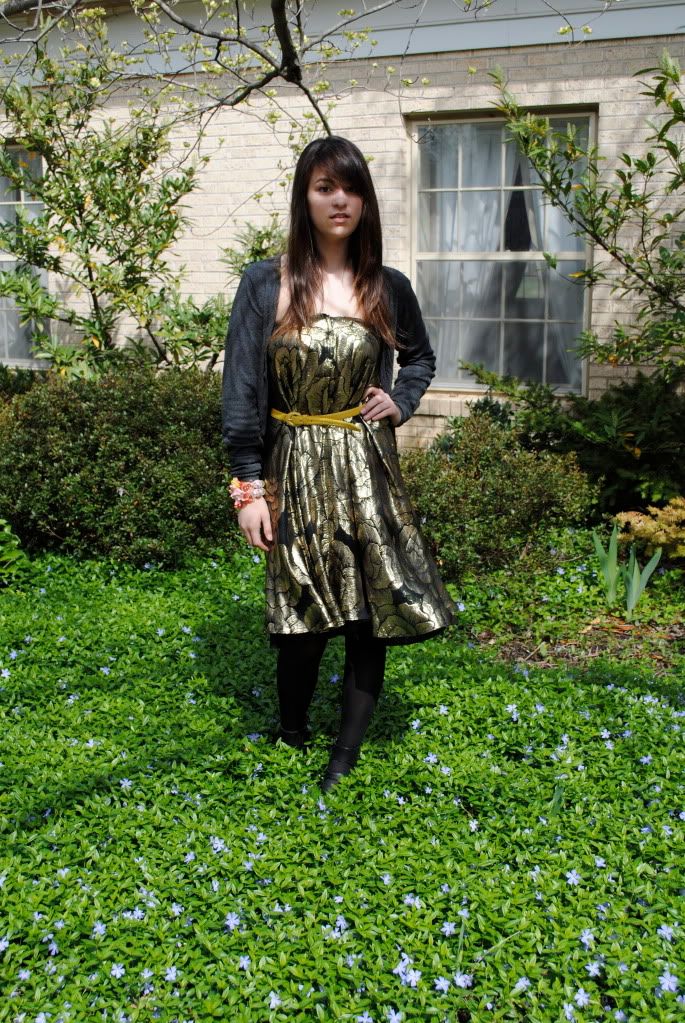 I saw this skirt in Goodwill and was attracted to the hem and the gold and black pattern, which is strange because I'm usually not that huge of a fan of the black + gold combination. Maybe it's because it's our school colors, and really, who wants to be reminded of school when they're shopping? Anyways, I tried it on but I really didn't like the length so I figure I'd just pull it up and make it a dress. To make it seem less formal I always through on a cardigan and a belt for some structure and there you have it. Dress for around four dollars. :D It is pretty uncomfortable though...the zipper that would normally be on the back if I wore it as skirt has to flipped around to my chest where I zip it up as far as it will go, then tuck in the top to make a neat line...and you can bet that the itchy fabric gets irritating! Know what else is irritating?

My belt was off center in all these photos and I'm just now noticing

.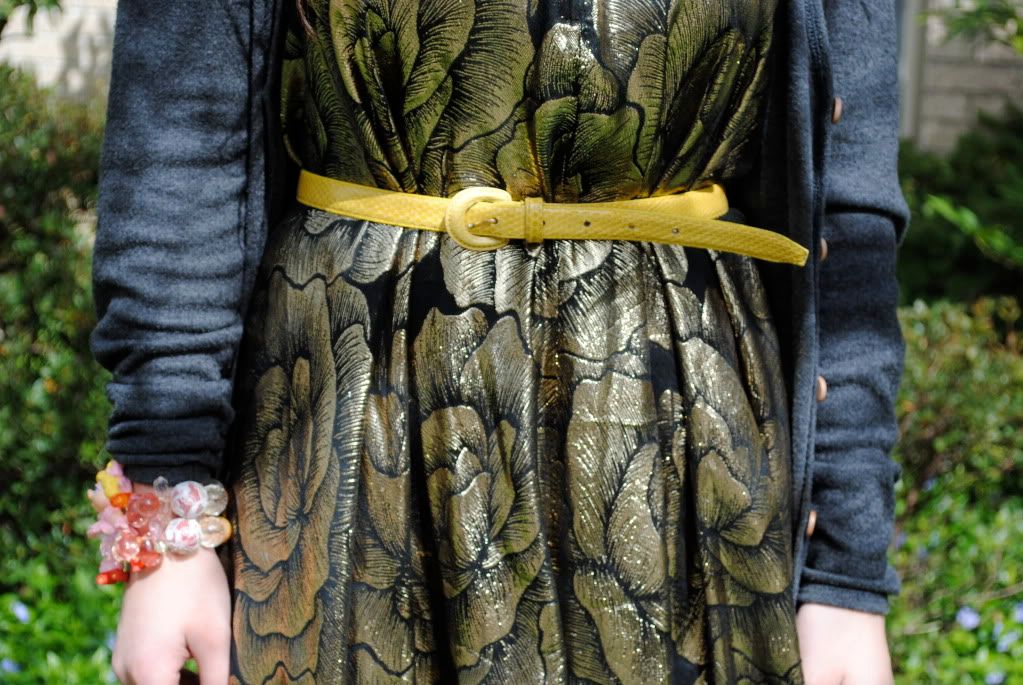 I wear it with my favorite shoes that are so dressy they almost cancel out the casual effect the cardigan has...but I don't care. With a dress this long I am compelled to wear heels so I don't get swallowed by the length. I got this awhile ago and I don't know why I haven't done a post on it yet...proabably because the day I wore it, it was during my editing week in my video class (we have a three week rotation: plan, shoot, edit) and didn't have the time for pictures. I always get tons of compliments and shock when people discover it's really an old lady skirt from Goodwill. I dress like I'm 85. Really.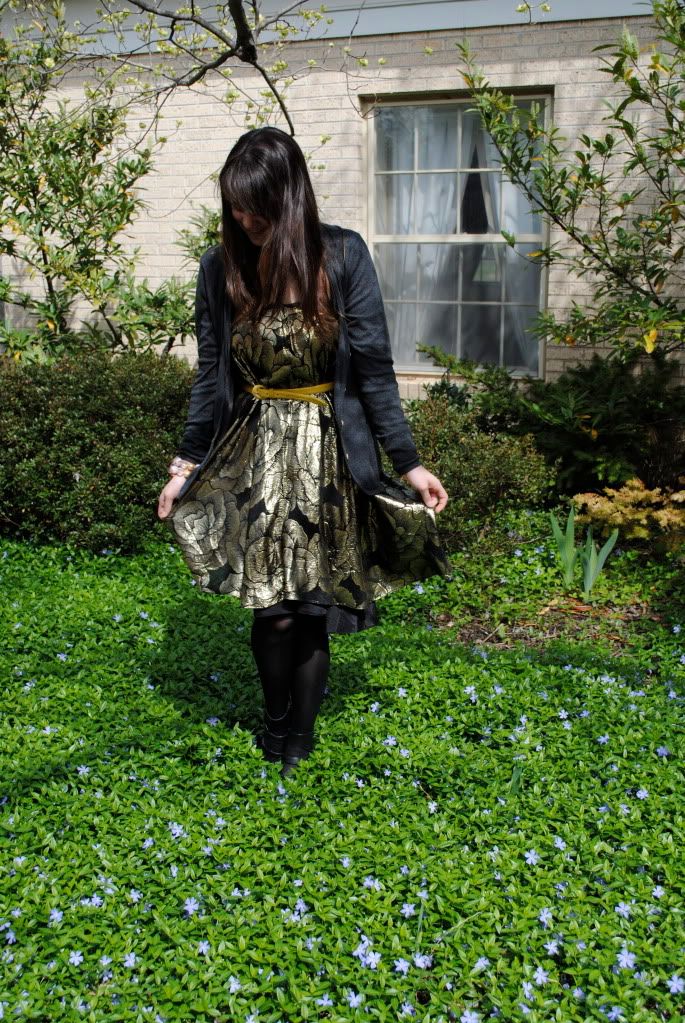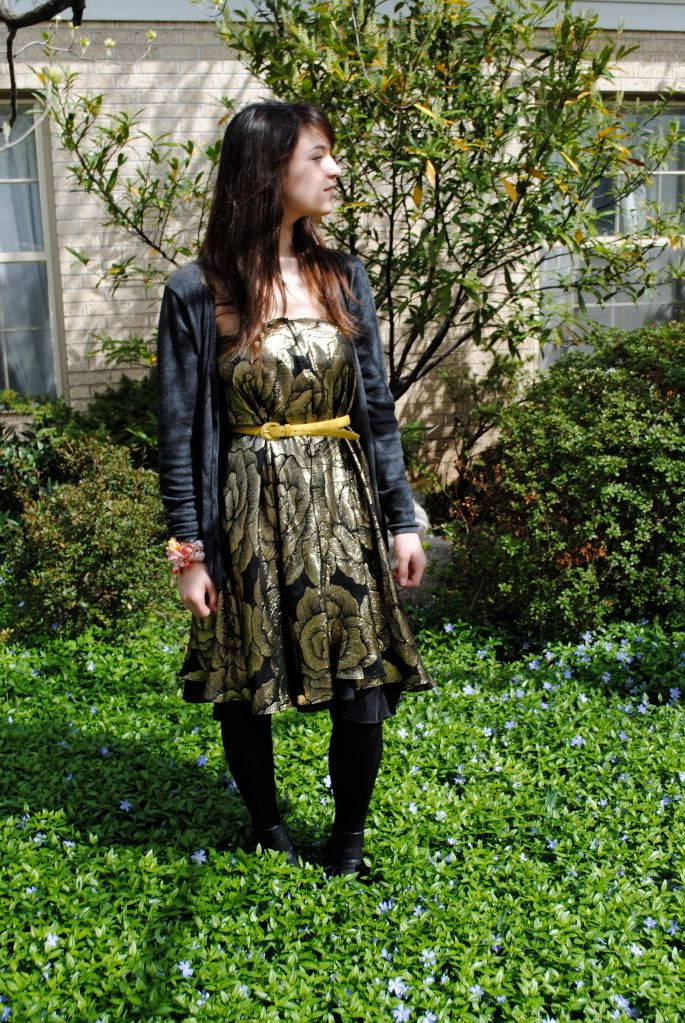 Well now I'm off to the dog park with Goose and my lovely boyfriend you hear so much about I guess. He'll probably read this and laugh at me? Or at least my friend Larry will, then tell him. Do you ever find it weird that other people read your blog? Or, not other people, but people from your school or work or just those whom you interact with on a regular basis? It creeps me out, haha.
Gold & Black Skirt (worn as a dress): Goodwill
Thin Yellow Belt: Goodwill
Grey Cardigan: Charlotte Russe
Black Cut-Out Heels: Urban Outfitters