I feel like I've been terribly overwhelmed lately, but not with immediate tasks but things looming over the end-of-the-school-year horizon (AP exams, final tests, End of Instruction tests...we do a lot of testing in my district) and then working to save money for...

WHAM, New York

. I am happy to say that I am most definitely going this summer! Twenty five wonderful days attending Pratt's Pre-College promgram. Days of musicals, sushi dinners (as if I don't do that enough here), subway riding, creative writing...I can not wait. And this is all thanks to my wonderful lovely boyfriend, who gets more wonderful all the time. He got me sponsorships that covered more than half the tuition and fees. So it needs to be July 5th...now. Enough rambling, how about some photos?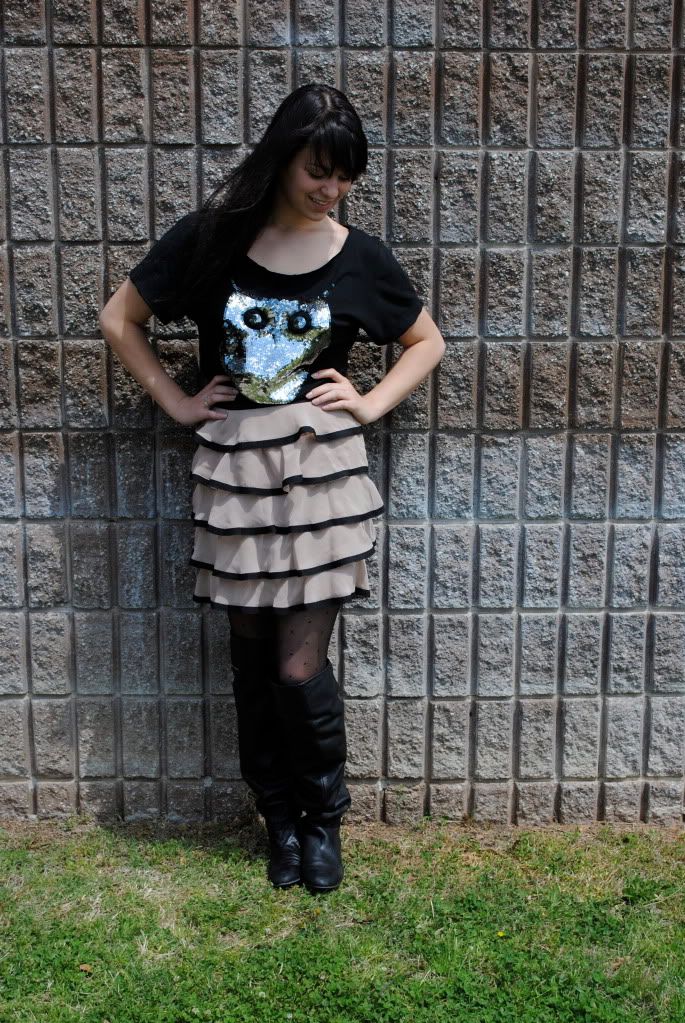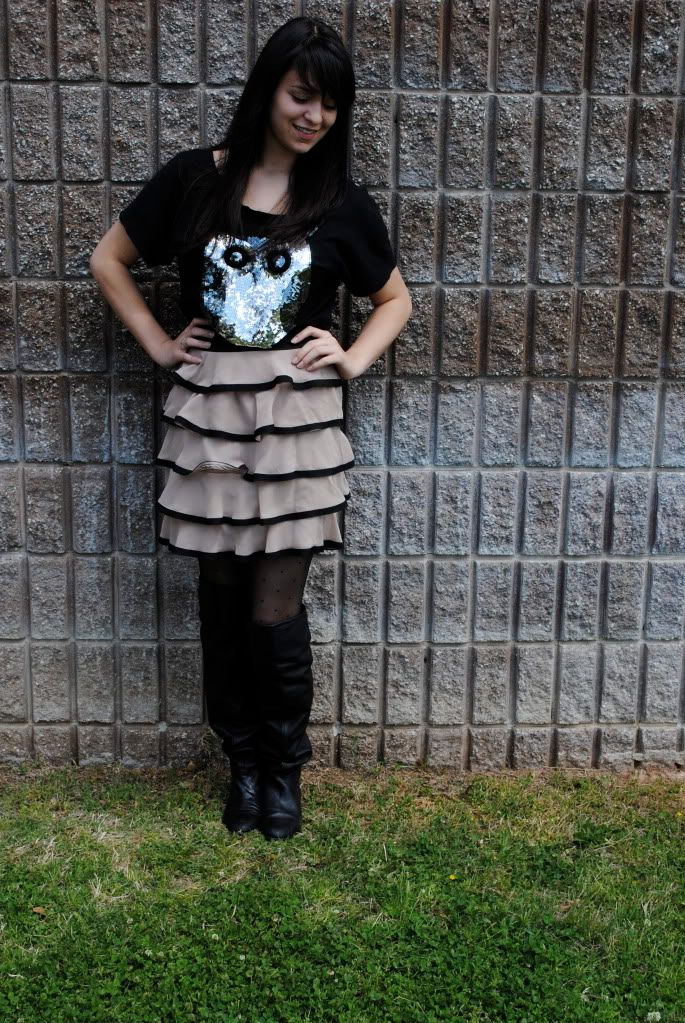 Right now we're on block scheduling, which means I didn't get to go to my Magazine class where I drag one friend or the other outside to take my photos. Instead I got two hours of Physics class, and my friend Tristen was behind the lens. I always feel pretty goofy taking blog pictures, especially when someone who doesn't normally take them (Lindsey or Uyen) is the photographer. We snuck outside and took them really fast, so there aren't many close ups or such.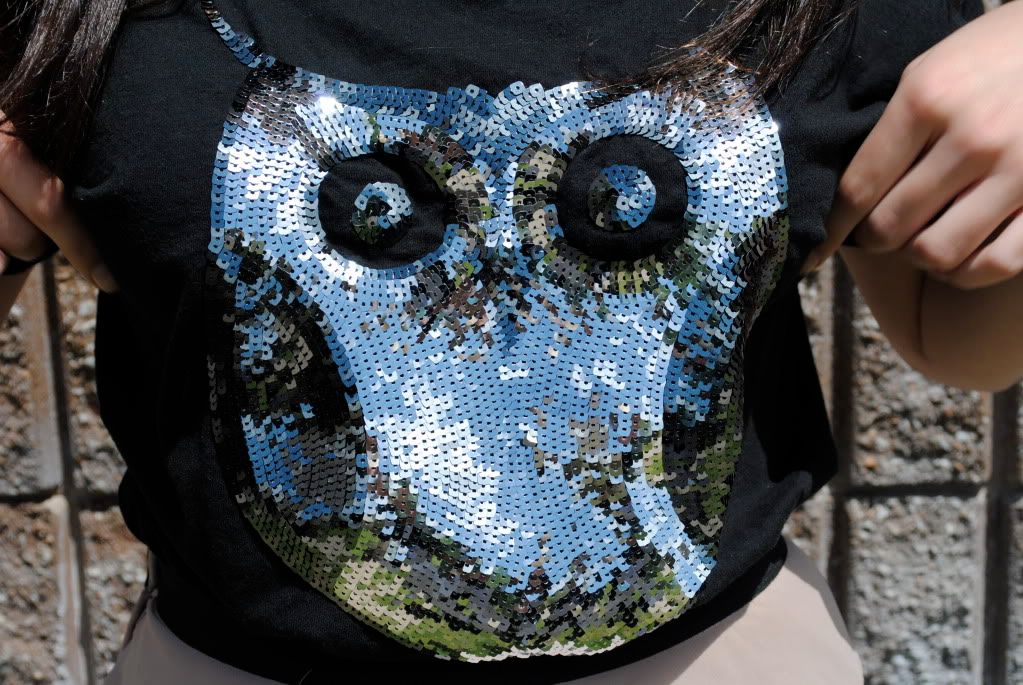 These pieces are two of my favorites. I fell in love with the sequined owl t-shirt just about the moment I saw it. It was back in cold, cold November and our Magazine class took a trip to Norman for a journalism convention. When we were strolling around looking at the college town we stumbled across a Lucca and I saw this shirt on the display and I didn't even need to try it on to know that I was going to make the purchase. And this skirt is another thing I will forever love. The ruffles, sweet pink, nice length. I just love the volume. I really really really wish we had an H&M. I bought so much from there when I was in New York in January. I can't wait to go back. Both to New York and to H&M. (;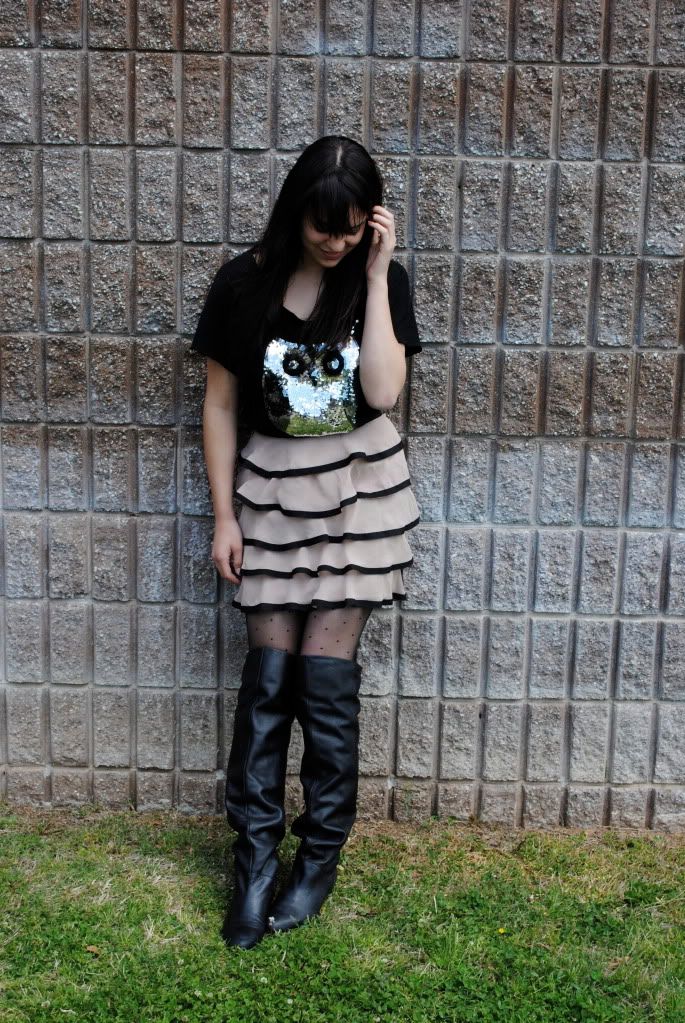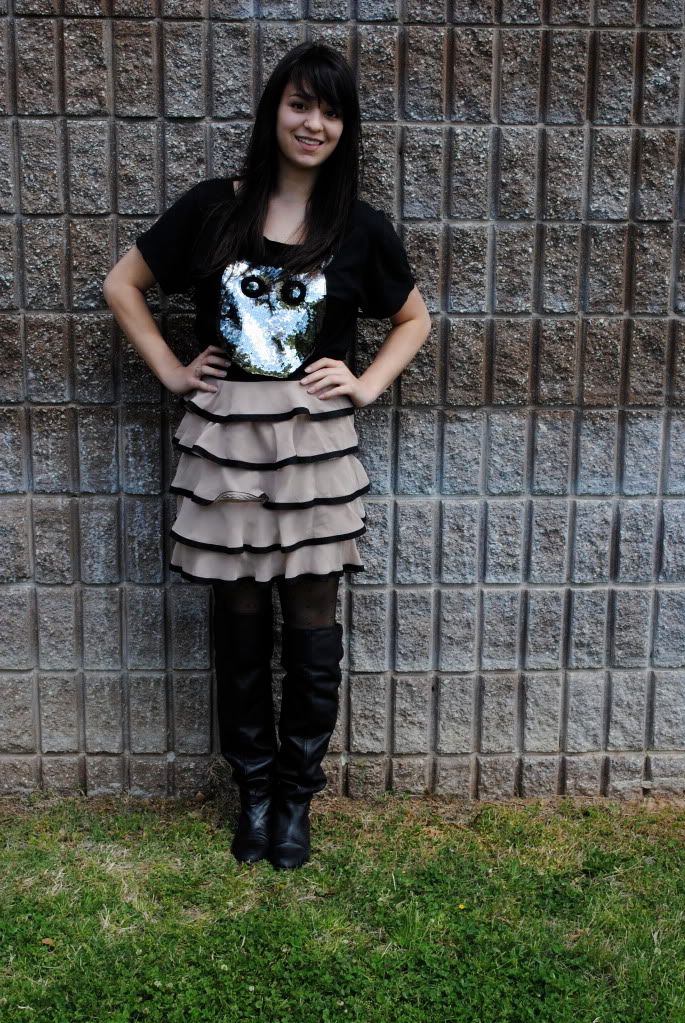 My two favorite pieces might as well be paired with my two favorite accessories. Tights + boots. I need to buy another pair of these dot tights because I already know I'm going to wear holes in them within a few weeks. Plus that gives me a chance to go to Target and raid the Zac Posen for Target collection. And my favorite over-the-knee boots, something I think every one should have in their closet, kept my legs warm. It's been uncomfortably cold lately after all the warm sunshine we were feeling last week.
What I'm Wearing:
Sequined Owl Shirt: Lucca
Pink & Black Ruffled Skirt: H&M
Over-the-Knee Black Boots: Urban Outfitters