How is everyone enjoying the bandwith exceeded signs? Apparently you're allowed 10 MB per month, and mine's at 10.4....but good news is that it all resets on the 24th, and all the pictures will be back up in a few days. For now I'm using a back up account. Mm, well a lot has happened in the past few days that I want to share, but first, photos. I went to Target (ZAC POSEN FOR TARGET ON APRIL 25! I can't wait, eeeee...) and got a TON of new clothes which I desperately needed like floppy sun hats and neutral toned things and flower jewelry and just everything nice for warmer weather.
I've been wanting a big sun hat for a while, so imagine how excited I was to find tons of them in lots of colors and I want to go back for more! I went for just one in a basic black for now though because I know I'll get a lot of use out of it. My friend Cameron said he saw me pulling into one of my over-sized school's three parking lots, and thought I was an old teacher at first. Old lady = never a bad thing for me.... :D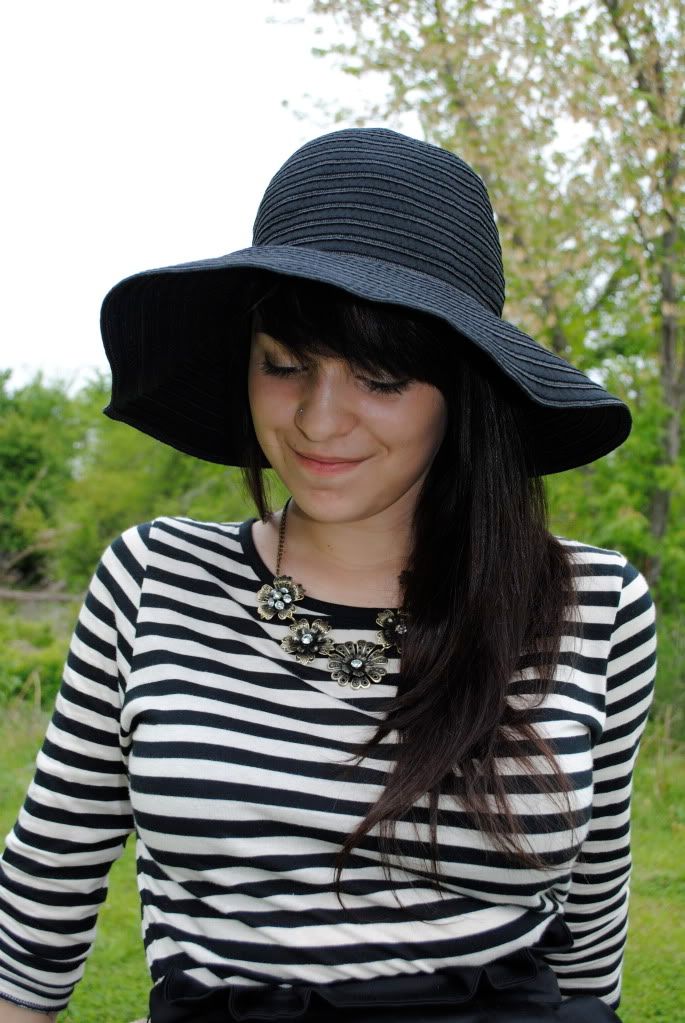 I've been wanting a nice striped shirt for a while so I could have a nice basic to work with....I've always seemed to lack those fundamental clothes like the little black dress and such. I originally had three, a black and white stripe, white and navy, and this wonderful black and creme. Well I've been on a neutral kick lately and so the creme and black it was because the contrast of the white and black was just to much for my still aching head and sinuses.
The perfect black skirt. PERFECT. In a longer length which I've been craving lately, durable material, a paper bag waist, pockets, ah! (: I tried on one in jean, but I knew I'd choose the black one. Remember how I said I lacked a little black dress? This is that for me. The pockets were sewn shut, but I sniped them open. I don't see the point of fake pockets. Pockets are always good. Except for maybe these, haha. (: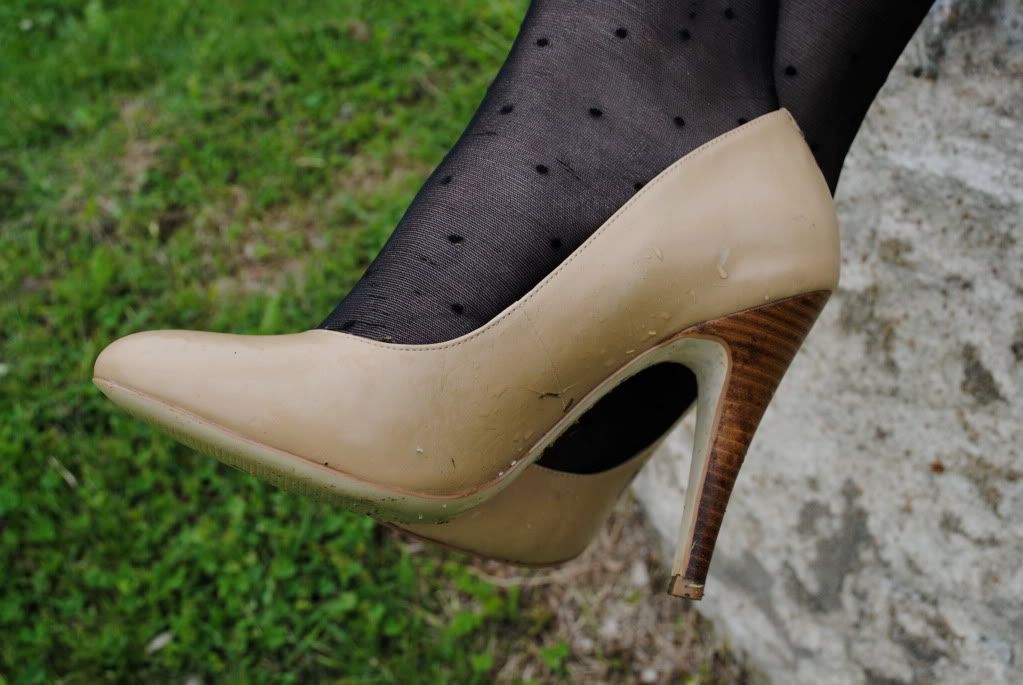 Oh yes, the dot tights that I have been wanting for ever! And seeing them on others blogs and not being able to find them anywhere, because I will not pay $14 + shipping for an online pair of nylons (I'll eat my words latter when I cave in and order these). And neutral heels which are something I really realized I needed when my friend wore a pair to prom. All my heels are colored or black and sometimes I'm at a loss for footwear...plus these are a comfortable heel height unlike my other "neutral" black cut-out heels I wear four days a week. Those ones are a terrifying five inches, ah!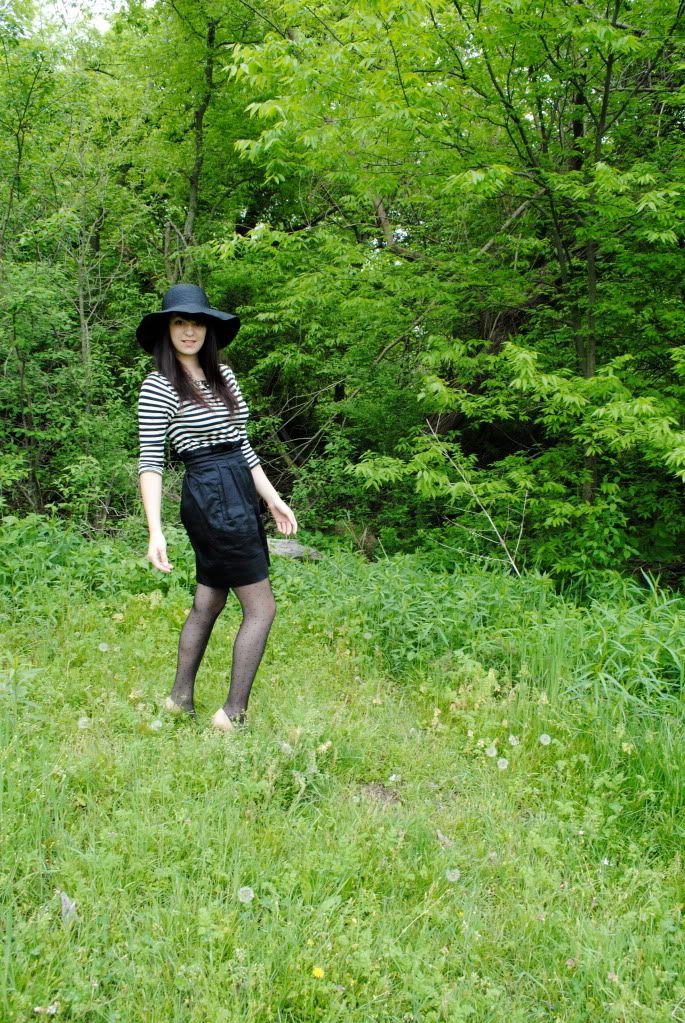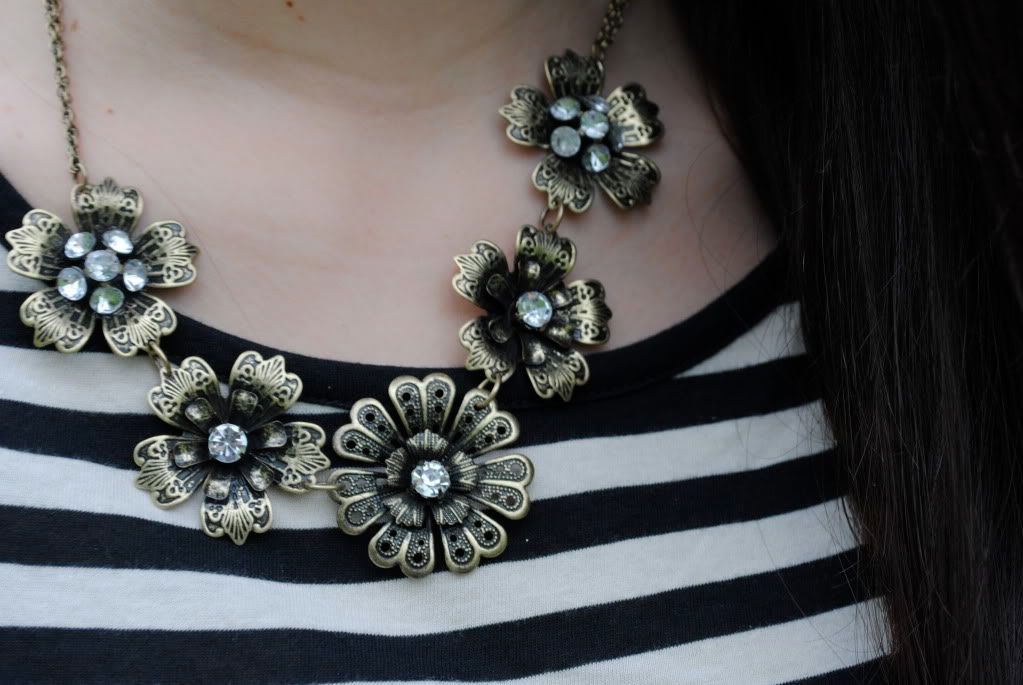 And last a nice floral necklace that looks like one that I stalked on Urban Outfitters last spring but never managed to get a hold of...it was before I had a job and $38 just seemed so much for a necklace, and it still does! And now that news that I have been holding out all post...I am almost positive I will be able to go to Pratt's Pre-College Summer Program this July that I mentioned a while ago. All thanks to my amazing boyfriend who got his dad's company and uncle to sponsor me and found me a place to stay and just all together he is too nice to me. (: (: (: And now I'm going to spend time with the before mentioned lovely boyfriend of mine so everyone have a wonderful Thursday evening! :D
What I'm Wearing:
Black & Creme Striped Shirt: Target
Black Paper Bag Waist Skirt: Target
Black Semi-Sheer Dotted Tights: Target
Brass Floral Necklace: Target
Floppy Black Sunhat: Target